Mindbody vs Zenplanner
There are so many fitness studio software packages on the market these days. If you're going to have a business in the fitness industry, whether that's a yoga studio, gym, or any other type of fitness studio, these kinds of softwares are essential these days. 
Related: Mindbody Review, Mindbody vs Vagaro, 7 Features of the Best Business Management Software, 15 Best Fitness Studio Software Options 
There are a couple of leaders in the fitness software industry, and two of those leaders are Mindbody and Zenplanner. Previously, we've compared Mindbody and Vagaro, looking at all of their features, reviews, pros, cons, and more. Today, we're going to be doing the same with Mindbody and Zenplanner.
If you're just starting up a business or thinking about making a switch to a new software package, these are definitely two that you should consider, and we're going to take a deep dive to find out just which one is best for you. 
Bottom Line – Which Is Better Mindbody or Zenplanner? 
Let's cut to the chase… There's really not going to be a clear winner when comparing Mindbody vs Zenplanner, but it may not be for the reason you'd expect. The reason there will not be a clear winner is because every client is different. Where Mindbody has stronger integrations, Zenplanner is more affordable. Where Zenplanner has slightly higher customer reviews, Mindbody has a lot more features. 
Only you know what is more important in your business. And all you can do is look at the pros and cons of each software, inspect what all they offer, and see which one best fits your business and your business's needs. 
Mindbody vs Zenplanner Overview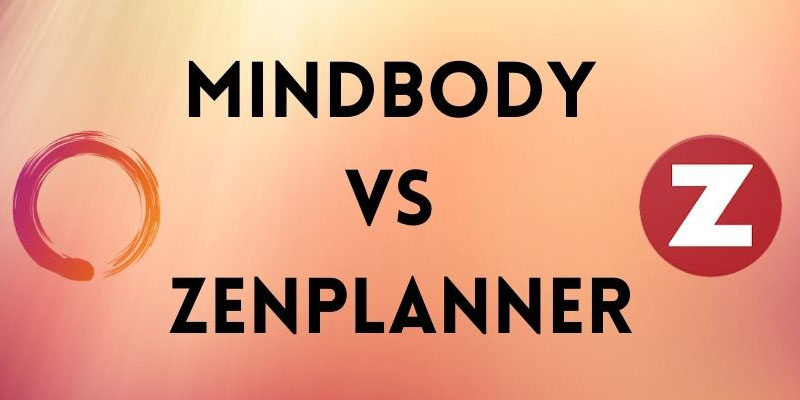 Before we look deeper at the various features, pricing, and all the other important smaller details, let's just take a moment to look at an overview of each…
Mindbody
Mindbody is a top cloud-based business software that is used by fitness studios and gyms to run their establishments. Its capabilities are almost endless for anything you might need to create and run a successful business. You can use it as a platform for clients to view, sign up, and purchase spots in fitness classes, run your marketing, pay your employees, and so much more. 
Mindbody is a leader in the fitness business software category with over two thousand reviews and receiving a rating of  4 out of 5 stars. It boasts 112 unique features and can be integrated through a variety of apps and websites. 
Zenplanner
Similar to Mindbody, Zenplanner is also used as a business software and is considered a leader in the fitness software category. One way that it is different, however, is that it seems to be geared towards smaller companies, whereas Mindbody has more capacity to handle larger businesses with more clients and employees. 
Zenplanner is also well received by its clientele, with an astonishing 4.3 out of 5 star rating and a recommendation rate of 87%. Many boast of its customer support and ease of use. We'll cover it more later, but it is also important to know that it has a lower starting price point than Mindbody as well. 
Mindbody vs Zenplanner Features
Both Mindbody and Zenplanner have dozens of features to offer business owners and their customers. To be exact, Mindbody has a reported 112 features and Zenplanner has around 70. While it's impossible to outline every feature, this section is going to hit the highlights of each to give you an even better idea of what they offer. 
Mindbody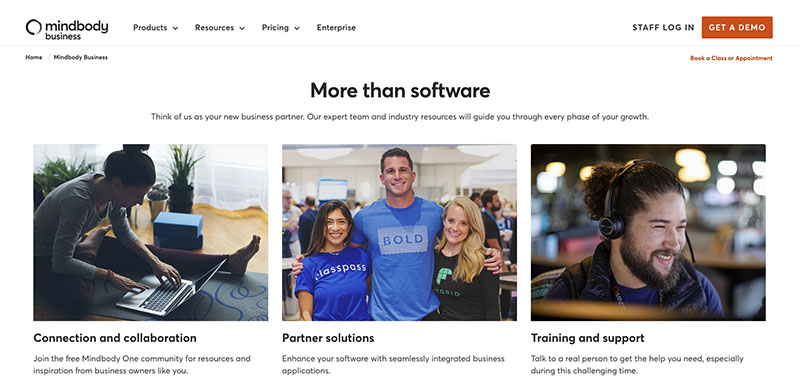 Online Booking, Scheduling, and Processing
With Mindbody, clients can easily view classes available at your fitness studio, book a spot, and even pay for it right at their fingertips. The great thing, too, is that they don't have to be in the app to do all of this. Because Mindbody easily integrates with Google and other social media, clients can book through Mindbody straight from the platform that they're already on. 
Marketing and Email Management
Mindbody also has a wide variety of marketing tools, both manual and automated. Some of the best marketing features they possess include text messaging campaigns, email campaigns, targeted and personalized messages, and the ability to send deals to potential and current clients. 
Payroll and Employee Scheduling
One thing I didn't realize until after researching Mindbody and other fitness software packages was how they do way more than just provide a place for clients to book appointments and classes. My biggest surprise was that some of these packages, like Mindbody, also allow for employees to be paid through the software along with scheduling their classes, work, and more. 
Zenplanner and Mindbody share a lot of the same features. For example, in automation, they both have options to automate marketing campaigns, but Mindbody also allows for automated scheduling. 
Another feature that Mindbody has that Zenplanner does not are sales reports. While this may not be as big of a deal to some business owners, it may be a deal breaker for others. Essentially, with Mindbody, you can see a list of all the sales that have come through your business. You can even filter the report to see sales by particular employees, locations, and more to evaluate your business plan and how it's going.
Zenplanner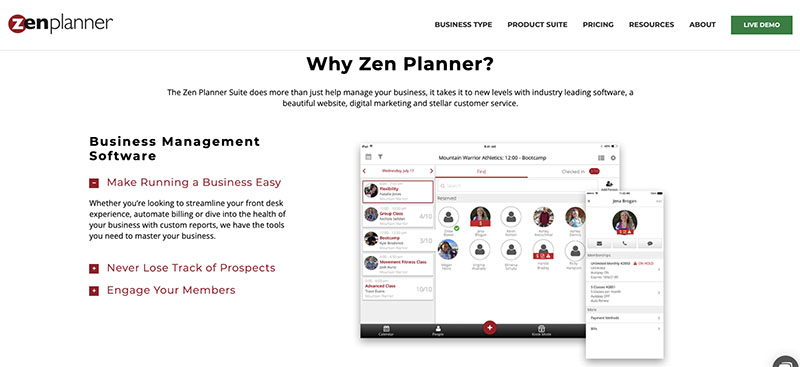 Online Booking, Scheduling, and Processing
Similar to Mindbody, people who use Zenplanner love the ease of booking, scheduling, and paying for classes all at their fingertips. Gone are the days where you have to show up to the gym to see what classes are about to start, and we are here for it! 
While Zenplanner has integration tools as well, it does not have some simple capabilities that customers love, like syncing with your Google Calendar and your Gmail. While this may not be a deal breaker for many, it may be for some! 
Marketing and Email Management
Another thing that Zenplanner is great at is its marketing capabilities. It also has automation features with your emails and text messages to your clients. From my understanding, it seems like both Mindbody and Zenplanner have some pretty beefed-up options in marketing, and they are both very comparable in this department with one another. 
Payroll and Employee Scheduling
I think it's important to note that they do not list payroll and employee scheduling with the dozens of other features that Zenplanner offers. So, if you're considering having an extensive list of employees or you want a one stop shop with software that will also handle paying your employees, you may need to look into other options! 
Member Communication and Database
While Zenplanner may not have the capabilities to offer payroll to its employees through the software, it offers some neat features that don't seem to be offered with Mindbody. One of those features is through their members. Zenplanner seems to have more of a social aspect where you can see other people attending the classes, you can monitor each other's progress, and you can communicate with other members.
One feature I found Zenplanner has that Mindbody doesn't is the ability to check in/check out. Of course you can book classes with both, but Zenplanner seems to be the only one out of the two that allows its members to "check in" upon arrival to the gym.
Benefits of Mindbody and Zenplanner 
As you can see from the list of features, in the debate between Mindbody vs Zenplanner, they both have really wonderful things to offer. They both offer a wide variety of benefits to their customers and have endless features available that I didn't have the room to list above. So, let's dive into the top benefits that each program offers. Hopefully, this can help you decide which is best for you and your business.
Mindbody  
Based on the reviews of Mindbody, it seems like most of their customers really love how all-encompassing the software is. It has everything that you could need to run your business successfully, from customers viewing and signing up for classes to marketing and payroll. It seems like Mindbody has it all and does it all successfully.
As I was exploring, I stumbled upon their exploration function on their website. You can explore classes and studios from their software, filtering by your location and the type of class you'd like to take. 
By simply looking up my location, I quickly learned that a lot of different gyms and studios use Mindbody in my area. Aside from this, this feature could enable you to be found by more people just by them simply looking for a fitness class.
The final enormous benefit that I learned from the reviews was how easily integrated everything is with Mindbody. Compared to Zenplanner, Mindbody has 29 more integrations listed. That is an astounding number and definitely something to consider if you want software that has a reach both far and wide. 
Zenplanner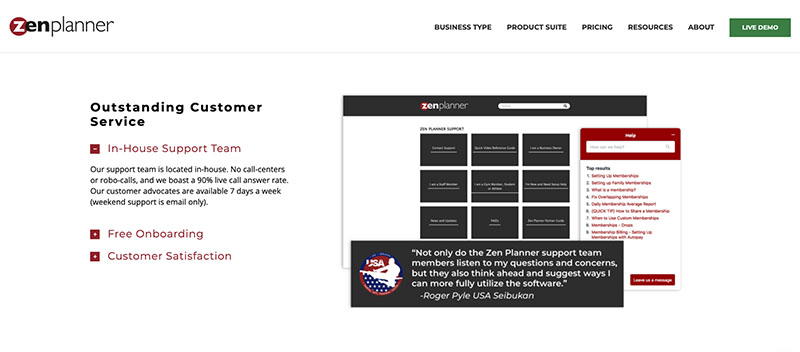 Before even investing in a program, it's important that you at least get to try it out, and Zenplanner allows you to do just that! Before you dedicate your business and its future to a software, most business-owners want to feel reassured that they have made the best decision. While there is something to be said about doing your research and reading reviews such as this one, there's also something to be said about actually getting your hands on the program and trying it for yourself.
In several areas of research, I have found many customers share they appreciated all the membership customization Zenplanner offers. While Mindbody has membership features as well, I can't help but get the feeling that Zenplanner's users seem to have more abilities to customize and socialize through the app.  
Great for Smaller Businesses 
Though we will touch on this below, it's important to mention here as well. Zenplanner is seen as being better for smaller businesses for a lot of reasons. Foremost, it is more affordable. Starting out as a new business, you will need to keep your expenses at a minimum. Another reason that Zenplanner is great for smaller businesses is because you would have to deal with less competition. 
Disadvantages of Mindbody and Zenplanner
Just as both Mindbody and Zenplanner have some really significant benefits, they also have some disadvantages. For most of the disadvantages, I explored customer reviews at length to determine the most discussed issues. 
Mindbody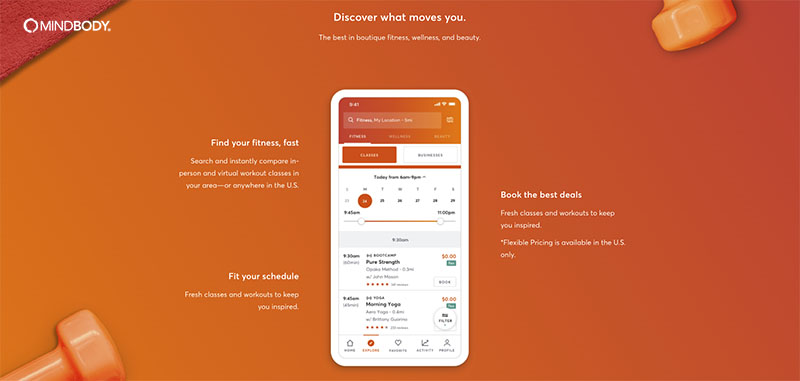 If you are a personal trainer or you have a gym that is open and doesn't have set classes, Mindbody may not be your go-to. While Mindbody software is all-encompassing and has so much to offer, you may need to look elsewhere if you are only training clients one-on-one or you don't have group classes.
When looking at Mindbody vs Zenplanner, Mindbody can be more expensive. Though they aren't too far from one another in their monthly fees, a minor difference can go a long way for small business owners. 
What was an advantage for Zenplanner is now a disadvantage for Mindbody, and that is its search feature. If you're already a well-established business, you may not need to worry, but if you're newer and trying to get your name out there, Mindbody's exploration function could be problematic since your clients can easily search for neighboring competition. On top of this, some customers left reviews sharing that other Mindbody businesses could send deals and emails to their existing customers. 
Zenplanner 
Not as Suited for Bigger Companies
If your company has a lot of employees or you want a software that can support a great number of employees as you grow, Zenplanner may not be your first choice as it is more suited for smaller boutique fitness studios and businesses.
Several reviewers shared Zenplanner was not as user friendly as Mindbody. Thankfully, they offer a free trial, so you could always see for yourself before deciding to purchase! 
There were also a handful of reviewers sharing trouble with the payment feature. Whether it was a business owner sharing struggles of getting refunds to clients or clients being double charged for classes they signed up for, this is definitely something you should look into before making your choice! 
Mindbody vs Zenplanner – Pricing and Plans 
Now that you have a better idea of Mindbody and Zenplanner, let's look at their pricing and plans that they offer. While money shouldn't be the deciding factor in your decision to pick a business software, it should definitely be of some importance. 
Mindbody
Mindbody's pricing is based on the amount of features that it releases. It has three payment options that you can see below, and each level increases in the software's capabilities and programming. Unfortunately, their website does not list the specifics of their pricing or what it offers. Here are the prices…
Essential ($139/month)
Accelerate ($279/month)
Ultimate ($499/month)
Zenplanner 
Zenplanner's pricing structure is completely differently. Per their website, they increase in price as you increase in members, while having all the same capabilities as before. Here is the pricing for Zenplanner…
0-50 Members ($117/month)
51-100 Members ($157/month)
101-250 Members ($197/month)
251+ Members ($227/month)
FAQs
What Is Mindbody vs Zenplanner Software?
Mindbody is a cloud software suite that gyms, fitness centers, yoga studios, personal trainers, spas, salons and more can use to run their business.
There is also a Mindbody mobile app that your clients can install and use to find, book and pay for classes.
Likewise, Zenplanner is also a cloud software suite that salons, spas and personal trainers can use to run their business.  It also has a mobile app clients can use.
Does Mindbody vs Zenplanner Software Allow You To Offer Virtual Trainings?
Mindbody allows fitness professionals to expand their business by offering virtual video-on-demand and live streaming fitness classes. The virtual trainings can be booked, paid for and accessed from the Mindbody mobile app.
Zenplanner offers live classes but it appears to be not as built-in or as streamlined as Mindbody's implementation. 
Mindbody vs Zenplanner – Includes Automated Marketing Tools?
Mindbody has an automated marketing feature that allows business owners to send out client emails, advertisements, and text messages. Zenplanner also offers automated email and text messages to clients. 
Mindbody vs Zenplanner – Which Software Is Better?
It really depends on your business needs. Mindbody and Zenplanner both operate optimally in different situations. Mindbody is a full featured business software geared towards a business with employees and more clients. Zenplanner is ideal for startups and smaller companies. As a business owner, you need to read through all the features, benefits and costs to decide which is better for your business.