Fitness and nutrition go hand in hand. Dr. Hensrud of the Mayo Clinic Healthy Living Program states that while they are both important, "For weight loss, diet seems to be more effective than physical activity."
At Fit Active Living, we focus a great deal on the movement part of workouts because of its importance in maintaining a fit and healthy lifestyle.
But, it is equally important to think about your diet when focusing on weight loss. 
In this article, we review the PhenQ meal shake.
It is a great meal replacement alternative with some impressive benefits.
What is the PhenQ Meal Shake?
As the name suggests, they designed the PhenQ Meal Replacement Shake to take the place of a complete meal. 
Whether it is breakfast, lunch, or dinner, it comes equipped with the right nutrients and ingredients to satisfy your hunger while giving you the vitamins and minerals you need in a well-rounded meal.
The PhenQ meal shake comes in 3 awesome flavors.
The three flavors are strawberry cream, chocolate brownie, and vanilla ice cream. 
Each flavor of shake has a very similar list of ingredients that focus on health and weight loss with slight changes for the flavor variations.
Similar to other powder-based protein or meal replacement shakes, it's recommended that you combine one or two scoops of the shake with 8 or 16 ounces of water or dairy-free milk.
>> Click Here To Get PhenQ Complete Meal Shake
What's in the PhenQ Meal Shake?
As mentioned above, there are some ingredient variations based on which flavor meal replacement shake you get. 
However, the important ingredients are the same, which is what I will focus on. 
The below label is from the Vanilla meal shake.
Here is what PhenQ shares are their most important and notable ingredients:
Whey Protein
Whey protein is a commonly used protein source for a variety of protein and meal replacement shakes, so it makes sense that it is also in PhenQ. 
Reported from Medical News Today, there are two types of proteins that make up milk, whey and casein. 
Whey is the protein from milk that has 9 essential amino acids and can be easier to digest because of its lower lactose content. 
Gluten-Free Oat Flour
Oat flour is a great alternative to traditional flour for its health benefits and being free from gluten. 
According to PhenQ, they incorporated it in their meal replacement shakes to help you feel full and stabilize your blood sugar. 
Carb10®
PhenQ trademarked this ingredient.
It comes from pea starch, and PhenQ reports its purpose in their shakes is to help with digestion and absorption.
Micronutrient Blend
As the name suggests, this ingredient in the PhenQ Meal Shake is a combination of a wide variety of vitamins, including:
Vitamin C – 24 mg; 25% of recommended daily value

Niacin – 4.8 mg; 30% of recommended daily value

Vitamin E – 3.6 mg; 25% of recommended daily value

Pantothenic Acid – 1.8 mg; 35% of recommended daily value

Riboflavin – 0.42 mg; 30% of recommended daily value

Vitamin B6 – 0.42 mg; 25% of recommended daily value

Thiamin – 0.33 mg; 25% of recommended daily value

Vitamin A – 240 mcg; 25% of recommended daily value

Folic Acid – 60 mcg; 15% of recommended daily value

Biotin – 15 mcg; 50% of recommended daily value

Vitamin K – 22.5 mcg; 20% of recommended daily value

Vitamin D – 1.5 mcg; 8% of recommended daily value

Vitamin B12 – 0.75 mcg; 30% of recommended daily value
They developed this blend to ensure the nutritional integrity of your diet. 
Because it will take the place of an entire, well–balanced meal, it's comforting to know that you will get comparable (if not more) vitamins and minerals from a meal replacement shake.
Flaxseed Powder
Flaxseed is ever-growing in popularity because of its incredible health benefits. 
It is an excellent source of fiber, Omega-3's, antioxidants, and more.
Many health and fitness experts gloat on its importance and effects.
Digezyme® Enzyme Complex 
DigeZyme® is a combination of five different enzymes that aid and support healthy digestion.
They list the following enzymes in the Digezyme Enzyme Complex: amylase, protease, cellulase, lactase, and lipase. 
Benefits of Using PhenQ Complete Meal Shake?
Now that you know exactly what is in the PhenQ Meal Shake, you may wonder what the benefits of these ingredients are. 
Here are some of PhenQ's most notable benefits they rave about with this product…
Replaces a Full Meal
As its name suggests, the PhenQ meal shake takes the place of an entire meal, whether it be breakfast, lunch, or dinner. 
Different from a traditional protein shake, the ingredients should help you feel fuller for longer.
On top of this, the vitamins make it easier for the PhenQ complete meal shake to substitute for a full and balanced meal without skipping on the nutrients you would typically get.
Boosts Energy
Because of the natural ingredients combined with the vitamins, PhenQ states that users of the product should feel a boost in energy! 
It DOES NOT contain any caffeine, so this energy is solely from a natural form of simply feeling healthier.
Curbs Cravings
When you have a well-balanced, nutrient-rich meal, you are significantly more likely to feel full for longer. 
When you feel satisfied, you notice a decrease in cravings and wanting to graze between meals.
This is definitely the case for the PhenQ meal shake.
Sheds Excess Weight
PhenQ's 16 grams of whey protein mix and their micronutrient blend helps to increase the fat burning process!
Promotes Increasing Muscle Strength
Eating high-protein meals not only curbs appetites and boosts metabolism, but it also helps maintain and build muscle strength. 
With 16 grams of whey protein in every scoop of PhenQ, people may see an increase in muscle strength while using this product.
No Sugar Added
We all know that added sugars are not good, especially with a meal-replacement shake. 
They have found added sugars to actually increase appetites besides all the other health problems they can bring. 
So, it is definitely a benefit that PhenQ has left added sugars out of their shakes. 
Gluten Free
Because of the oat flour, those that struggle with digesting gluten or have Celiac's Disease can also enjoy PhenQ! 
There are other reasons that making the shake gluten-free is a benefit. 
Some researchers found that those who didn't struggle with gluten sensitivities experienced improved fitness and gastrointestinal health.
>> Click Here To Get PhenQ Complete Meal Shake
PhenQ Meal Shake Pricing
Each bag of Phenq meal shake contains enough shake for 7 meals and costs $20.95.
That equates to each meal/shake costing $2.99.
You will be hard pressed to find a health shake for $2.99 these days!

PhenQ offers special pricing if you buy 3 bags of complete meal shake.
Buy 3 bags and the pricing decreases to $17.95 per bag or $2.56 per meal!
They also offer a subscription service where you can save an additional 10% on your purchase.
PhenQ Meal Shake Refund Policy
PhenQ offers a complete no questions asked 60-day money-back guarantee on their products, including their complete meal shakes. 
This is an huge benefit as it gives you the opportunity to try the meal replacement shakes at no risk at all.
What to Eat When Taking PhenQ Meal Shake?
Ideally, PhenQ will replace your meal completely.
However, if you're wondering what kind of diet or food habits to follow while losing weight and drinking these shakes once a day, it really depends person to person.
If you are considering changing your diet, it is always smart to consult with your doctor or a dietician.
They can give you the best insight on what will help you reach your health and fitness goals! 
>> Click Here To Get PhenQ Meal Shake
How Many Meal Replacement Shakes Should I Drink a Day?
On PhenQ's main website, they recommend for best results to drink a PhenQ shake every day as a meal replacement.
My interpretation of this recommendation is that they recommend customers having one serving per day, which is one to two scoops depending on your personal taste preference. 
I'd like to note that the reviewers I researched shared only replacing one meal per day with a PhenQ shake.
I didn't read any that shared someone drinking more than one. 
How Much Weight Can I Lose with PhenQ?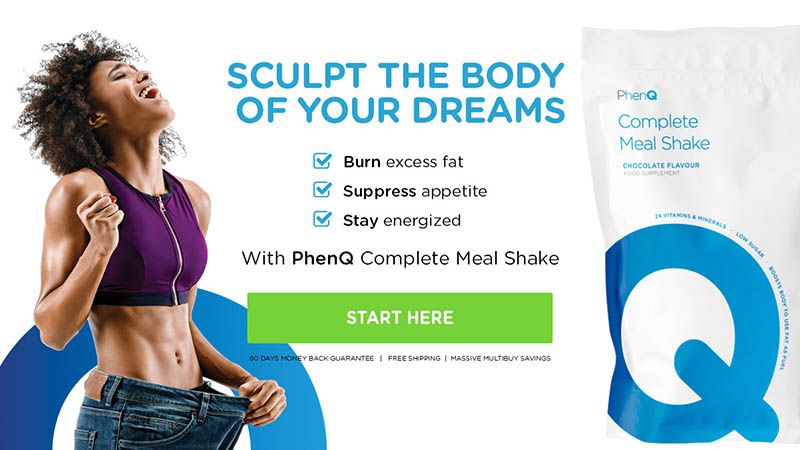 Everybody is different in how they hold and lose weight. 
While they specifically designed PhenQ meal shakes to help people lose weight, I think other factors will also contribute to how much weight you will actually lose. 
For example, if you are sedentary and eat whatever you want before having a shake for dinner, you're probably less likely to lose much weight. 
On the flip side, if you dedicate your time and effort into moving your body and picking healthy foods to eat with your one shake meal a day, you are probably more likely to lose weight. 
There was no reported amount of weight you can lose with PhenQ meal shakes, however, they did share that a great number of customers who achieved the most success had ordered a 90 or 180 day supply. 
Having a 90 or 180 day supply allowed customers to truly start reaping the reported benefits.  
>> Click Here To Get PhenQ Meal Shake
What Do the Reviews Say? 
PhenQ isn't available on Amazon or any big retailers where a large quantity of reviews are available.
There are three highlighted testimonials on their website that note three things:
PhenQ Testimonials
Weight Loss
Though we aren't sure of the timeline, Jenna P. shared that PhenQ has helped her lose 10 pounds and increase her overall energy. 
Great Taste
John R. makes note of the taste, stating, "I could mix it with just water and it tastes amazing." 
Affordability
The final testimonial on the PhenQ website comes from Angie G.
She made a great comparison on the relative affordability of the product. 
She shared that instead of spending $15 on lunch each day, she can have this nutrient-rich meal replacement shake for less than $3 per scoop. 
Blogger Reviews
Other than the testimonials on the PhenQ website, I found several blogs that have tried and reviewed the PhenQ Meal Replacement Shakes. 
Here are some common trends I noticed from the variety of sources:
Less Fatigue
Some reviewers noted they felt more energized as they neared the 30 day mark of using PhenQ. 
They felt more ready for the day, met the 2 PM afternoon slump with energy, and continued about their day.
Weight Loss
One reviewer shared that besides having a meal replacement shake every day for lunch, he also made other positive health and fitness changes. 
He started intermittent fasting and reducing his overall carb intake while also having the shake each day to break his fast during mid/morning. 
These changes combined with the meal replacement shake for 30 straight days helped him lose 17 pounds in just 30 days! Talk about an amazing result! 
While there are other reviewers that may have shared different benefits and experiences, the biggest trends I read about were minimizing fatigue and weight loss. 
Does PhenQ Meal Shake Work?
In the research I've done on the people who have taken PhenQ Meal Replacement Shakes, I've found that it can work for you and your lifestyle.
PhenQ meal shakes are most effective when combining it with other healthy lifestyle changes. 
For example, the reviewer who started intermittent fasting and reducing carb intake saw amazing results! 
>> Click Here To Get PhenQ Meal Shake
Who Makes PhenQ?
PhenQ is a product line from the UK-based Wolfson Brands.
Besides their PhenQ meal shakes, they also manufacture the PhenQ weight loss pill and PhenQ PM – a nighttime fat-burning supplement. 
Wolfson Brands has been in the fitness industry for over a decade, providing a variety of health and fitness supplements.