Top 8 Best Beginner Kayaks Reviewed
Want a relaxing outdoor activity that will also give you some great exercise? Ever try out kayaking? Below we review 8 of the best beginner kayaks that will give you great fun and exercise! We also discuss all the factors to consider when looking for the perfect kayak. So get ready, we're going to share some of the best beginner kayaks we could find!
IN A HURRY?  HERE'S OUR TOP BEGINNER KAYAK PICKS…
MOST POPULAR!
Kokanee Sit-On-Top Kayak, Lime, 10'6"
INTEX 68307EP Explorer K2 Inflatable Kayak Set: Includes Deluxe 86in Aluminum Oars and High-Output...
Pelican - Basscreek 100XP Fishing Kayak - Sit-On-Top Kayak - Lightweight one Person Kayak - 10...
Kokanee Sit-On-Top Kayak, Lime, 10'6"
MOST POPULAR!
INTEX 68307EP Explorer K2 Inflatable Kayak Set: Includes Deluxe 86in Aluminum Oars and High-Output...
Pelican - Basscreek 100XP Fishing Kayak - Sit-On-Top Kayak - Lightweight one Person Kayak - 10...
---
Pelican - Maxim 100X Recreational Kayak - Sit-in - Lightweight one Person Kayak - 10ft
Upgraded Features: Additional storage in this kayak includes a front hatch with bungee cord and a rear tank well with mesh deck cover to give you plenty of space to store your personal items. Features...
Stable: The shallow V-chine hull offers better manoeuverability and tracking while giving you increased secondary stability. This kayak is made for the recreational paddler looking for better...
Safe: Added floating blocks on each side of the kayak along with a flatter hull type ensures you safety and peace of mind during your ride. Holds a maximum capacity of 275 lb.
Comfortable: Paddle in comfort with an adjustable ERGOFORM padded backrest with ERGOBASE seat cushion.
Lightweight: Our kayaks being made with exceptionally durable high molecular density polyethylene, less material is needed to produce each boat. At 10 ft and weighing only 36 lb, it makes the perfect...
Pelican is a brand with a trusted reputation in the kayak industry. This sit-in model is 10 ft long with a weight capacity of 275 pounds. It's relatively lightweight, coming in at 39 pounds, which would make it easy to handle.
It may not be the cheapest price point for a beginner, but this is one that will last. It even has some storage options for longer rides. All things considered, this is a solid choice for your beginner or intermediate range kayaker.
---
Lifetime Cruze 100 Sit-in Kayak, Orchid Fusion, 10-Foot
Adjustable Quick Release Seat Back and Seat Pad for Comfort
Deep Hull Channels for Tracking Performance and Chine Rails for Stability
Multiple Footrest Positions for Different Size Paddlers
Oval Hatch for Added Storage Beneath the Deck
Stable Flat Bottom Hull Design; Front and Rear Toggle Handles for Easy Transport
Lifetime is another solid brand, and this is a solid choice if you want to go for a sit-in kayak as your first. Especially since it comes with the paddles!
The weight capacity and length are the same as the Pelican above, but it weighs more at 46 pounds. There is, however, less storage offered with this option, but depending on what you will use it for, that may be a non-issue.
---
Emotion Spitfire Sit-On-Top Kayak, Orange, 9'
Built in Padded CRS + UltraLite Seat. Rear Tankwell with Cargo Net Lacing for Storage. Storage Hatch for Added Storage Beneath the Deck
Molded-In Paddle Keepers and Side Carry Handles. Molded-In Freedom Footwells for Comfort and Secure Foot Bracing
Self-Bailing Scupper Holes to Drain Water from the Cockpit and Tankwell. Front and Rear Handles for Easy Transport
Hull Design Provides Ultra Stability and Great Tracking. UV-Protected High-Density Polyethylene Construction
Lightweight 45 lb. Design
This is our first sit-on kayak for our list of the top kayaks for beginners. Priced between the Pelican and the Lifetime, it's not too high of a price. It has some lace netting for storage, but not near as much as a sit-in.
In terms of specifications, it's a little under 10 feet long, meaning it is definitely on the more stable end. One of the biggest things to consider with this kayak is that the weight capacity is 240. So, if we're going by the rule I mentioned above, the heaviest a person could feasibly be to ride is 180 pounds.
If you're a smaller adult or if you're getting this for a child, it's a solid option. Otherwise, this may not be for you!
---
Sale
INTEX 68307EP Explorer K2 Inflatable Kayak Set: Includes Deluxe 86in Aluminum Oars and High-Output...
✔ EASY TRANSPORT – Lightweight and compact, this kayak is easy to assemble and, with the Boston valve, it inflates and deflates in minutes; paddles come apart and the pieces can be conveniently...
✔ READY FOR ADVENTURE – Explorer K2 Kayak is great for experiencing lakes and mild rivers with a friend, this kayak is sporty and fun with a streamlined design for easy paddling, with the bright...
✔ STABILITY – Made with rugged vinyl construction and built for performance, this sturdy kayak has an inflatable I-beam floor, a low-profile deck, and high-buoyancy side chambers for stability,...
✔ 2-PERSON CAPACITY – The Explorer K2 is a two person capacity kayak with a 400 pound maximum weight capacity. When fully inflated the kayak measures at 10.3 feet X 3 feet X 1.8 feet
✔ ADVENTURE ACCESSORIES – Includes two 86 inch aluminum oars, two inflatable seats with backrests, heavy-duty grab handles with grab lines, two quick-fill Bonston valves, high-output pump and one...
This is not only our first inflatable kayak to make the list, it's also our first tandem, or two person kayak. If you're limited on storage space and you love the idea of going out on the water with another person, this is a great option.
The weight limit is 400 pounds, and this kayak is 10 feet like the others mentioned above. This is definitely the most affordable option on our list by far. Coming in at under $200, you get a kayak for two people, paddles, and an air pump. It's got amazing reviews, so if you're considering inflatable, this is definitely one to consider.
---
Sale
INTEX 68305EP Challenger K1 Inflatable Kayak Set: Includes Deluxe 86in Aluminum Oar and High-Output...
✔ SUPER-STRONG – SuperStrong enhanced molecular formulation PVC provides superior strength and durability, ensuring high impact and abrasion resistance
✔ LOW PROFILE DESIGN – The Challenger K1 has a streamlined low-profile design that is perfect for easy paddling in lakes and mild rivers
✔ COCKPIT SEATS – Built with removable and adjustable seats, the cockpit design is spacious and comfortable, providing plenty of room for your legs and gear
✔ REMOVABLE SKEG – Attached to the underside of the kayak, the removable skeg provides directional stability, making it easier to maintain a straight and steady course while paddling
✔ 1-PERSON CAPACITY – Inflated size is 9 feet x 2.6 feet x 1.1 feet with a weight capacity of 220 pounds and easily foldable to be put in the carry bag that allows for easy transportation
Even more affordable than that Intex Explorer, the Challenger comes in at under $100. You will not find a more affordable kayak for a beginner.
The major difference between this kayak and the other inflatable kayak mentioned above is that this one is for one person. Other differences include being 9 feet long, a large cargo net for storage on the front, and the weight capacity is 220 pounds.
While it comes with its own paddle, a storage carrier bag, and an air pump, you've got to consider the weight capacity with this one as well.
---
Sale
Kokanee Sit-On-Top Kayak, Lime, 10'6"
Constructed of UV-Protected High-Density Polyethylene (HDPE)
Versatile Design Allows for Solo or Tandem Paddling
Two Adjustable Quick Release Seat Backs for Comfort
Multiple Footrest Positions for Different Size Paddlers
One Hatch for Added Storage Beneath the Deck
This beginner sit-on kayak is our most expensive tandem, so far. One of the primary reasons that this plastic model is more expensive is because it is a 2-person kayak. So, again, if you're wanting to share this experience with someone else, this is a great way to go instead of purchasing two.
It is 10.6 feet long and has a weight capacity of a whopping 425 pounds! Because of its size, it's important to consider that it will be a little more challenging to maneuver. However, this will barely be noticeable as a beginner using it in calmer waters. With the weight limit and its capability to have two people, it is definitely worth the extra money!
---
Pelican Sentinel 100X Angler Fishing KayakSit-on-Top KayakLightweight one Person Kayak9.6 ft
A multi chine flat bottom hull ensures the stability needed when casting lines and reeling in fish.
Measuring 9'6"" and weighing only 44 lb, the SENTINEL 100X ANGLER is incredibly easy to transport and store
Made using our patented Ram-X materials, the SENTINEL 100X ANGLER will be around for years of exciting experiences.The best way to clean your kayak is by using a mixture of mild soap and warm water
Comes equipped with the ExoPak, a removable storage compartment that fits perfectly into the tank well.
Our unique manufacturing process allows us to include additional flotation inside the hull of all of our sit-on-tops in order to meet or surpass ABYC Standards. Maximum capacity of 275 lb.
The Pelican Sentinel is a 9.5 foot long sit-on kayak that can hold up to 275 pounds! With one of the higher weight limits on our list, it's no wonder that it is a little more on the pricey side.
It's also important to point out that while this is a great option for beginners, it is specifically a great option for beginners who are interested in using their kayak for fishing.
This kayak has a great number of features that aren't included in the other beginner's kayaks that will help you have a more enjoyable fishing experience. Some of those features are a latching storage hatch, vertical rod holders, two flush mount rod holders, a bottle holder, a paddle tie down, and adjustable foot rests. So, if a fishing kayak is your desire, this is definitely worth the bigger price point.
---
Lifetime Cadet Youth Kayak, Paddle Included
Durable High-Density Polyethylene (HDPE) Construction | Molded Finger Handles on Each Side of the Kayak
Molded Paddle Cradle | Multiple Footrest Positions for Different-Size Paddlers
Patented Swim-Up Deck Design to Assist Re-entry | Recommended for Ages 5 and Up with Adult Supervision
Reverse Chine for Enhanced Stability | Self-Bailing Scupper Holes Drain Cockpit Area of Water
Twin Fin Design Assists in Tracking Performance | UV-Protected – Will Not Fade, Crack, or Split | Weight Capacity: 100 lbs.
While some of the listed beginner kayaks would work for children and youth (especially the shorter ones with smaller weight limits), Lifetime made this kayak special for children.
It is extremely lightweight, weighing a measly 17 pounds. Similarly, the weight limit is very light as well at 100 pounds. It's only 6 feet long and has some special features to help a child get back on the kayak if they were to capsize.
This kayak is small, durable, and stable. It's a brilliant choice if the beginning kayaker in your life is a child.
---
Why Kayaking?
In order to achieve your ideal fitness, you've got to get creative and find different ways to work your body. A great way to switch things up is by finding activities that require some fitness, but don't really feel like a workout. One big example of a fun lifestyle activity that can provide you with some cross training is kayaking!
More and more people are realizing the amazing benefits to incorporating this ancient form of transportation into their fit lifestyles. Not only is it a really enjoyable way to burn up to 500 calories an hour, it's a great way to get some vitamin D while strengthening your core and toning your arms!
Not to mention, it is also incredibly calming. Lots of people think of Crossfit and really hard workouts as the only definitions of "fitness", but that's just not the truth. Fitness comes in all shapes and sizes, and this form of fitness is one that is both leisurely and enjoyable. Kayaking can really be fun and rewarding!
So, if you're one of those people who are looking to achieve optimal fitness and you're interested in venturing into the world of kayaking, you can start here by learning how to get paddling with the best beginner kayak. Surprisingly, they come in all kinds of different sizes and materials. Some are better for advanced and experienced kayakers, so it's important to know the difference if you're wanting to invest in one for yourself.
Choosing the Best Beginner Kayak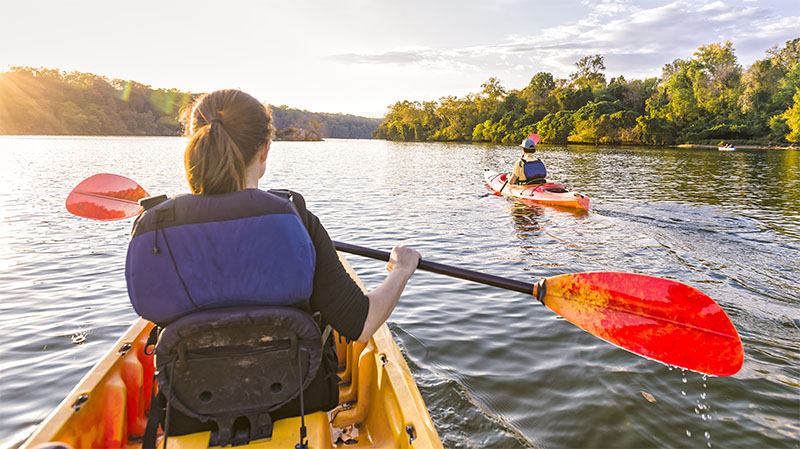 People use kayaks for a variety of different things: leisure rides, fishing, diving, races, white water paddling and more. Because a beginner's technique won't be as developed yet, it's probably best to choose a kayak that is better suited for calmer waters. For example, white water kayaking is navigating through rushing waters and requires a great deal of skill. Beginners need to build up their proficiency by starting small and taking it slow.
So, as we're considering the best beginner kayak, we need to consider the following factors to think about what is the best for your kayaking goals while also considering your beginner's status.
Sit-On vs Sit-In Kayaks
We touched on this a little in our article titled "Is Kayaking Hard?", but we looked at it from a more global perspective. Here, we need to look at a sit-on vs. sit-in kayak at a beginner's perspective.
Essentially, sit-on and sit-inside kayaks are what their name suggests. Sit-on kayaks are where the seat is on top of the kayak, whereas sit-inside kayaks have the seat inside.
Both types of kayaks have models that have desirable sizes and materials that would make them ideal for beginners, so selecting one that is best for you comes down to preference.
If you select a sit-on kayak for your ideal beginner kayak, you would more than likely be in areas that are warmer and allow you to get on and off freely. Because the seat is on the top (think a paddle board type situation), you could easily slip off, but you can also get back on easier. They definitely design these kayaks for calmer waters, which is what you would need as a beginner.
If you select a sit-in kayak, this is also a good beginner kayak. Because the seat is inside, you would more than likely stay in the kayak for the duration of your journey. While you could handle waters that were less calm, you wouldn't really want to take that on as a beginner because if you capsized in a sit-in kayak, it would be much more difficult to get back in while you are in open waters. So, if you plan on being in calm waters, such as a lake, this is another solid option. Like I said, it just comes down to preference.
Size
For the size of the best beginner kayak, ideally think in terms of width and length. As a general rule of thumb, the wider the kayak, the more stable it is. So, as a beginner, you want something stable to keep you from tipping over.
When considering length, there are more factors to think about. You'll need to think about your height and the amount of legroom you will need, along with stability and maneuverability. Shorter kayaks are the most stable, but if you are an adult and you are not intending on doing any white water kayaking anytime soon, get one that is at least 8 feet long. If you are especially tall, you could go with a 10-12 foot kayak, but as mentioned above, the smaller (while also being comfortable), the easier it is to stabilize and turn safely.
Material
Believe it or not, kayaks come in a variety of materials as well. Each material has its own pros and cons, but if you're a beginner looking to invest in your own kayak, you will probably want something that promotes stability, durability while also being on the more affordable side.
With it being your first kayak, you may not want to opt for a composite kayak. This is because it is not only significantly more expensive, it is also less durable. While it is easier to maneuver and lighter, it's probably best to leave these kayaks to people with more experience.
The best beginner kayak would be plastic or inflatable, depending on your needs and wants. Plastic is by far the most common and probably offers you the most variety in choices. However, if you are limited in transporting the kayak to the water, an inflatable kayak may be best for you. Because it is inflatable, you can deflate it, store it, and transport it in a way that is much more compact. With a plastic kayak, you would have to have a truck, a roof rack, or a trailer to get it to the water, but once it is there, you wouldn't need any time to set it up.
So, what's a good beginner kayak material? We'd advise either plastic or inflatable depending on the items above and what you think is best for you!
Hull Type
Who knew that kayaks also had different hull types? Well, they do and they can make a difference on what you're looking for in your beginner kayak. Essentially, there are four key hull types: flat, pontoon, v-shaped, and rounded.
The kayak manufacturers design V-shaped and rounded hulls to help kayakers maneuver rough waters. They allow them to lean into big waves while staying afloat. But, in calmer waters (which are better for beginners), they will feel significantly less stable.
Flat hulls are better for beginners than v-shaped and rounded hulls. While it may affect your speed may on calmer waters, flat hulls are still a pretty good option.
But the most ideal hull for a beginner is the pontoon hull. It is very stable and often used for fishing kayaks. It's smooth and may not be as fast as the v-shaped or rounded, but makes up for it in stability, which is key.
Weight Rating
The last thing to consider when picking a beginner kayak is its weight rating, or weight capacity. Of course, it's important to make sure that the kayak can remain afloat with you and all of your gear on board.
One thing that most beginners may not consider is that the weight limit listed for the kayak is actually the max capacity for the kayak to remain afloat.
So, if the maximum weight limit on a sit-on kayak is 350 pounds and the person on the kayak weighs 350 pounds, the kayak will be level with the water. While this is keeping the person afloat, it will not be an enjoyable, leisurely ride.
With this in mind, some suggest the 25% rule. Take the maximum capacity and subtract 25%. So, if the weight limit is 350 pounds, the person riding the kayak should weigh no more than 262 pounds in order to ride comfortably.
Be sure to consider this when looking for your ideal beginner kayak!