Best Fitness Studio Software
Small businesses are on the rise. Whether you want to credit this to a suffering global economy, job loss, or just more time to pursue passions, this past year was a huge year for small business owners. In fact, 58% of business owners started a business during that year. 
On top of this, they have reported that 55% of Americans wish to start their own business one day. So, with the increase in small businesses and a big percentage of U.S. adults dreaming of starting one, it could be safe to say that you just may be in that boat.
Related: Mindbody Review | Mindbody vs Vagaro | 7 Features of The Best Fitness Business Software
If you have recently started a business or have dreams of starting one someday, the fitness industry is a great place to start. And, if you're starting a gym or fitness studio, you're going to need to keep up with the times and have great software to support and grow your business.
Because of this, we've got 15 of the best fitness studio software options on the market! In the past, we've explored Mindbody and Vagaro, but below, we cover even more options! I just want to note that these are in no particular order! They're simply the best we could find for you!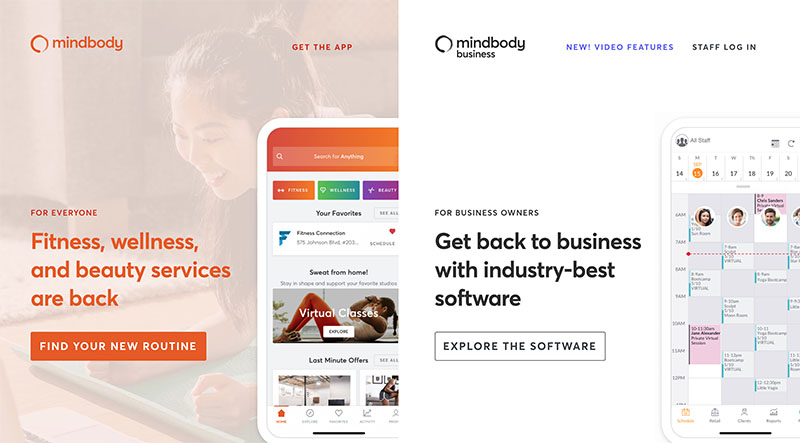 As I stated above, we've done a comprehensive article on Mindbody, as it is one of the leading fitness studio software options available. It's geared for small businesses to larger corporations, and can grow with you as the need arises. 
Starting at $129/month, it has all kinds of features. Clients can schedule, book, and pay for classes within the software. Employers can manage their payroll, employee schedules, payroll, and so much more. Depending on the plan, you can even automate your marketing, emails, and text messages. 
According to GetApp, a website that reviews Apps, Mindbody has over 2,000 reviews and has received 4 out of 5 stars. Along with this, 82% of customers reported they would recommend using this software. 
2. Zen Planner
Zen Planner is also one of the best fitness studio software options available! One big difference from Mindbody is that they gear it towards smaller and medium-sized companies, and isn't as compatible with larger corporations. 
Its packages start at $117/month and have 4.3 out of 5 stars and 87% of users stating that they would recommend this software. 
It has a majority of the features provided by Mindbody, however; it does not seem as compatible with other softwares and programs. For example, with Zen Planner, you can not sync your workout calendar with other calendars and it does not appear to have payroll capabilities. 
3. Glofox
Glofox is comparable to the two mentioned above in many aspects. First, it's the most affordable starting plan for $110/month. It has almost as many features as Mindbody, except for payroll and gift card management. 
Glofox made the list of the best fitness studio softwares because it comes highly recommended by customers at 88% and has received a 4.6 out of 5 stars. Most rave about its customer service and ease of setting it up, but it is important to note that the negative reviewers also complained about customer service. So, it doesn't seem like there's a consensus on the support you could receive.
4. Wellness Living
Wellness Living is another well-loved software for fitness studio owners and clients alike! It has a 4.4 out of 5 star rating on GetApp and 87% of its customers would recommend using it to others. 
Its starting package is considerably more affordable than Glofox and Zen Planner at $59/month. In terms of integration, however, it isn't as strong as some competitors, but it can still integrate with Google Calendar, Facebook, and a handful of others. 
5. Vagaro 
In our comparison of Vagaro and Mindbody, I shared Vagaro is more geared to work optimally for small businesses, whereas Mindbody operates better at a larger scale. 
The starting point of this software is simply unbeatable at $25/month, but we should note that they have more itemized packages that could add up really quickly, depending on which features you would want or need for your business. 
While the star rating is pretty high at 4.6 out of 5 stars, the recommendation percentile is incredible! A whopping 97% of customers recommend Vagaro. Many boast of how user friendly the software is for customers and business owners alike. The only criticisms I could find talked of payment issues with either cards or Apple pay, but that was about it. 
6. Pike13
Pike13 may not have made the qualifying list of category leaders in GetApp, but they are definitely a fierce competitor in the fitness world. Geared specifically for smaller businesses, it may not be a good fit if you're wanting to grow your business quickly.
It has 110 features available with the exact starting price as Mindbody at $129/month, and they rated it 4.1 out of 5 stars with an 81% recommendation rate.
7. Acuity Scheduling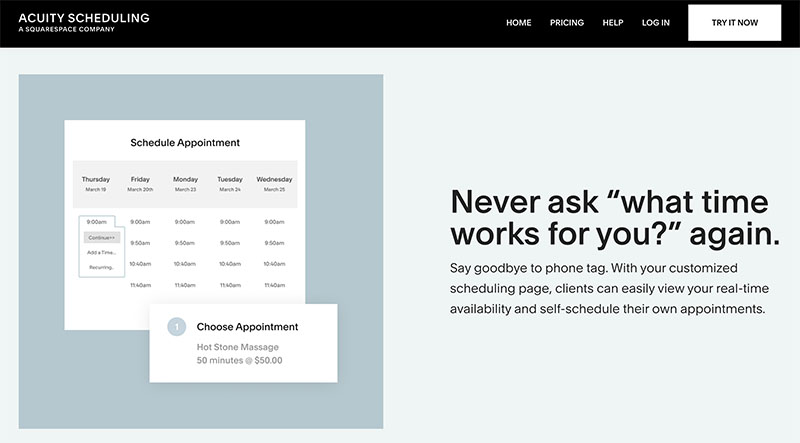 From what I can see, Acuity Scheduling has quite a bit to offer with happy customers! It's another great option for a small business owner who wants something reliable with some growth potential.
There may be fewer features (102 to be exact), but the start price is simply unbeatable at $15/month and its highest plan at $50/month. 98% of its customers would recommend the app with a 4.8 out of 5 star rating. These stats are simply unbeatable! 
The criticisms I could find, however, were that some features of the software may not be as user friendly.
8. GymMaster 
Created for businesses of all sizes, GymMaster was an easy decision to add to our list of the 15 best fitness studio software options. With a middle-of-the-road start price at $69/month, it could be a great option.
One big thing to note is that it only has 73 features, which are pretty small compared to the other softwares listed above. Some of the biggest things you might miss out on would be the payroll management, real-time scheduling, and social media integration. 
If you're looking for a software with fewer bells and whistles, this could be a great fit. It still has an incredible rating of 4.6 out of 5 stars and the customers are very satisfied with 95% saying they would recommend it to a friend.
9. Active Network
Because Active Network is web-based and does not offer an app, this is a little less traditional than the others on this list. 
There's also less information available, such as pricing and specific features, but Active Network seems to have more of an emphasis on digital marketing and getting your business to the public. This would enable you to list your fitness events and classes on ACTIVE.com, which is an incredibly popular and high trafficked website. 
10. VirtuaGym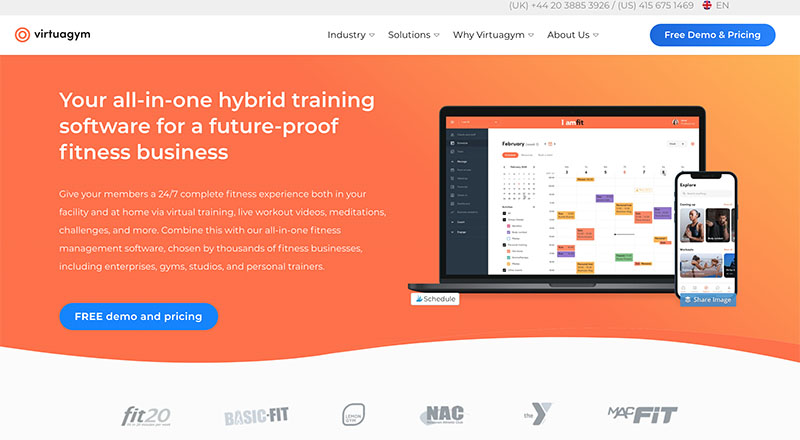 Right out of the gate, what's interesting about VirtuaGym is that it isn't subscription-based like the others I've mentioned. Their website does not lay out pricing unless you give information, but it does state that their software starts at $29. 
In terms of features, it seems pretty comparable to the others. It has 122 total features listed on GetApp and integrates with Facebook, Paypal and some others.
Its reviews aren't necessarily the best, though. Only 66% of its customers would recommend VirtuaGym, and it only has 3.6 stars out of 5. 
 11. PushPress
PushPress has some of the highest ratings with a 98% recommendation rate and 4.7 out of 5 stars. I can completely see why. 
First, it is free to start. Not just free for a trial. It's free if you have less than 100 members and you do not want to use some of their features like payroll and integrations. It lets you have access to all kinds of features to start and get your business off its feet. Once you grow, the price goes up significantly. The Pro level is $159/month and the Max level is for large gyms and is $229/month. 
12. Wodify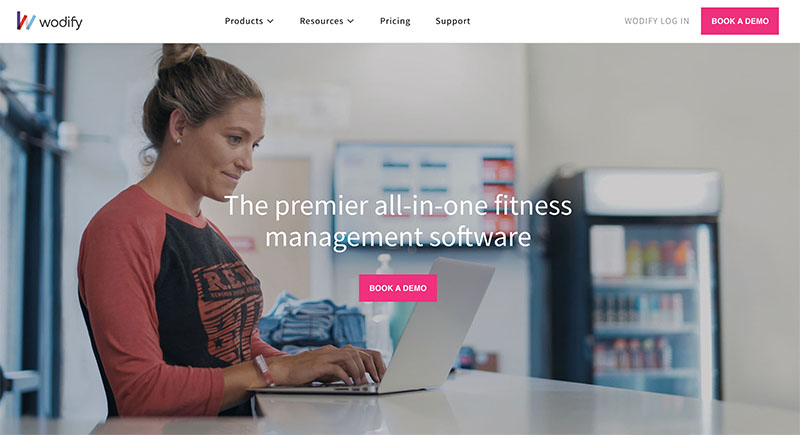 Especially if you're wanting to do more of a Crossfit type of fitness studio, Wodify could be a splendid choice. If you didn't already know, WOD stands for workout of the day, which is very popular in the Crossfit world.
This software may only have 53 features, but it has the most important ones, like booking and paying for classes online, etc. It also has pretty good ratings with 4 out of 5 stars and an 81% recommendation rate. 
For a $79/month starting point, this would be a great option to explore if you have a business in the Crossfit training world. 
13. TRIIB
TRIIB's monthly payments start at $130, but you can have a free trial, which is something that some others do not offer. It only has 31 features, so if you're looking for a more basic software option, this could be a good choice. Some customers and business owners don't want all the bells and whistles.
I should note that TRIIB has the least amount of reviews, which can skew the information a bit. With only 29 reviews, it has received 3.9 out of 5 stars with 77 percent of those recommending this software. This may not be the best, but these reviews are better than some on this list. 
14. Arbox 
Arbox is a fitness management platform created in 2015. It is a full featured application which includes marketing and sales reports, class scheduling and several membership & retention tools.
They offer a free trial and the entry level subscription is $79 per month. But that does not include multiple features you will probably need to run your business. In addition, SMS integration requires purchasing SMS packages. The higher subscription levels contain more features out of the box but are, of course, more expensive. They rate Arbox 4.8 out of 5 stars.
15. RhinoFit
Last, but certainly not least, we have the fitness studio software called RhinoFit. Starting at $57 per month, it offers 53 distinct features. The biggest difference I can see is that it has fewer features for customers, like a client portal, database, management, and profiles. 
Despite the customization for the clients, many reviewers seem satisfied with RhinoFit. It has 4 out of 5 stars and an 86% recommendation rate. 
Fit Active Living recommends Mindbody software for fitness centers, gyms, yoga and dance studios.