Mindbody vs Vagaro
If you are considering starting your own health or fitness business, you can't rely on word of mouth alone. Consumers today want to find your business easily, learn all about it, and book appointments directly. Ideally, they want to do this from the comfort of their mobile phones.
Related: Mindbody Review
Whether you're starting a yoga studio, a boxing gym, or anything in between, you need the right software to help your business grow and thrive. While we've taken a full deep-dive on Mindbody before, today we're going to be comparing two prominent programs: Mindbody vs. Vagaro.
They widely use these programs in the health, wellness, and beauty communities to schedule appointments among countless other things, so we're going to be breaking down their strengths, shortcomings, prices and more.
Bottom Line – Which Is Better Mindbody or Vagaro?
Before we dive into all the little details, let's just cut to the chase. Is there one program that is collectively better than the other? Is there a definite answer that you can expect to find at the end of this article? Well, no. Here is why…
Mindbody and Vagaro, as systems, operate optimally in different situations. Mindbody is more ideally geared towards a larger business with more employees and more clients. Vagaro is more affordable and is ideal for startups and smaller companies. So, there really isn't a "better" option, you'll just need to read through all the features, benefits, and everything else to determine what is best for your goals and ambitions.
Mindbody vs Vagaro Overview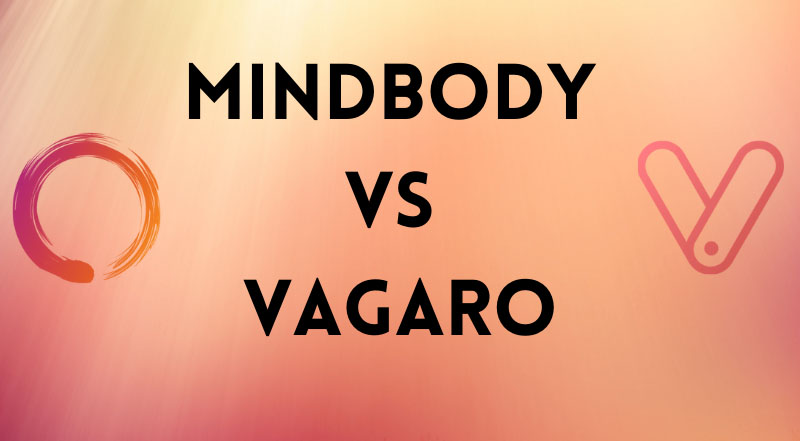 Mindbody
Mindbody is a software that is primarily used in the health and wellness industry that helps business owners run their businesses. It is an app that allows clients to view your content, look at your schedule, book and pay for classes, and so much more.
But, on the business side of things, Mindbody cannot only book appointments, track user information, and gather feedback, it also enables you to brand and market your business to clients and potential clients. If you'd like more of an in-depth review of Mindbody, be sure to check out our complete review.
Vagaro
Vagaro has gained in popularity in the salon industry, but businesses can also use it in the health and wellness industries. Like Mindbody, it is a software that allows clients to view schedules and book classes and appointments virtually.
While it allows you to brand your company, send emails and SMS notifications, you can also use it as a search engine to find gyms, salons, and other establishments in the programs that are near you.
Like with Mindbody, you can also view your previous clients' history to gather information and help you make decisions for your gym, studio, or business.
Mindbody vs Vagaro Features
As we go through the features of each program, it's important to note that they share a lot of similarities in what they offer. But, there are some subtle (and some not-so-subtle) differences that could make you swing one way or the other when deciding which is best for you.
Mindbody
With Mindbody's calendar system, you can see availability and waitlists in real time. The software updates the calendar as soon as someone books or cancels their spot in a particular class or session.
Livestream and Online Classes
While there is something incredibly motivating about attending a class in-person, we've learned over the past few years that some clients prefer working out from the comfort of their own home. Mindbody allows you to livestream classes and have pre-loaded online classes that your clients can attend and pay for, which is a great way for your clients to try out your work and to broaden your business's access and reach.
One wonderful and unique feature Mindbody offers is that it can integrate third-party programs. While there are several, one example is Facebook. You can use the marketing features on Mindbody and it will integrate them with Facebook, creating advertisements, posts, and more.
Speaking of marketing, Mindbody has an automated marketing feature that allows business owners to send out client emails, advertisements, and text messages. This way, you can set things up and just let the application work its magic, allowing you to focus on your craft and your genuine passion: health and fitness.
As we'll discuss below, Mindbody thrives with companies that are bigger and have a larger number of employees. One reason for this is because the program allows your clients to have employee profiles. They can view their statistics, reviews, and more. This allows them to continue to work on their craft and do their best for your company.
Vagaro
Similar to Mindbody, Vagaro also has a calendar feature. Its calendar software allows clients to schedule and drop appointments.
For employees of the company, the calendar feature allows them to schedule classes and put in time for paid time off. This is great to streamline so that everyone in the business stays on the same page.
Again, Vagaro and Mindbody allow clients to book and schedule their classes online. Another similarity is that Vagaro also integrates 3rd parties by allowing clients to book through Facebook, Instagram, Yelp, and more.
While it has some automated marketing, Vagaro seems to have fewer opportunities in this category. It allows business owners to send automated texts and emails, however, they only include some of the other features that come standard with Mindbody with upgrades (which means you will have to pay more).
Payroll with Vagaro looks pretty straightforward. You can clock in/clock out, look at inventory, commission and more. On Vagaro's website, it does mention that they partner with Gusto for payroll services. This means that there will probably be more fees than the initial price advertised considering it states there is a "3 Month Trial" when looking at payroll services.
Vagaro also provides opportunities for livestreaming classes in their fitness app and software. The website also mentions one-on-one consultations and coaching, which sounds like another cool feature your business could explore when helping clients reach their health and fitness goals.
Benefits of Mindbody and Vagaro
We could definitely view many of the features listed above as some amazing benefits! But, in this section, we're going to be looking at Mindbody vs Vagaro in terms of their best and most exciting benefits they offer.
Mindbody
If you're hoping for a platform that will grow with you and allow you to spread your wings, Mindbody is where it's at. It seems to look at your company as a big picture, a culmination of all these moving parts (marketing, scheduling, client experience, etc) that make up your style and what you're going for.
Build and Customize Platform
Another tremendous benefit that Mindbody has over Vagaro is that it seems to give more freedom to build and customize your platform. It allows you to build your marketing, customer experiences, and even your employees while also allowing them to continue to learn and grow through feedback.
In the battle between Mindbody vs Vagaro, it just seems like Mindbody has the edge on automation. From my understanding, it not only lets you create content to send out through automation, but it also generates automated marketing content to make it even easier for you.
Vagaro
According to most online reviews, Vagaro has good scoring and reviews for all around experience and use.
As you will see broken down below, Vagaro is very affordable. Vagaro starts out at $25 per month, whereas Mindbody's beginning rate is $125 per month. This is a big difference, especially if you are a new company.
In reviews of features in the two software packages, most looked at inventory management, employee management, and point of sale. Most reviews showed they believe Vagaro offers more features.
Disadvantages of Mindbody and Vagaro
Now that we've looked at the biggest benefits and advantages of each, let's look at what their potential disadvantages are…
Mindbody
Like I said above, if you are a company that is just starting out, $125 per month is a considerable amount. Not to mention, that is just the most basic package. While it may not be as big of a deal for more established companies, this could affect new companies.
There are so many moving parts to Mindbody. This could make it a little daunting and overwhelming for a smaller business. While it has the automation features, it takes time and effort to learn everything and get it all set up.
Vagaro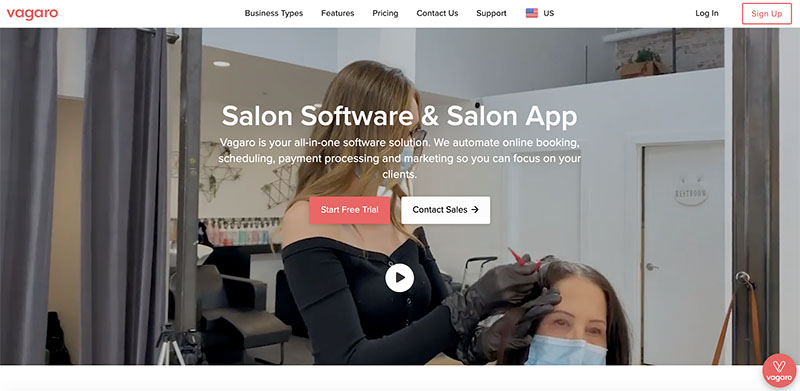 While it has a fitness-geared software, Vagaro is most widely known and used in the hair and beauty industry. While there isn't anything technically wrong with this, it's just important to note that the company may put more of their resources and efforts into troubleshooting and developing their salon software.
The price is right for small companies! However, if you have over 10+ employees, it becomes not only more pricey but also less user friendly. This software seems geared more towards startups, personal trainers, and small businesses.
While the built-in search engine tool is amazing, we could also see it as an issue. Because it allows users to search for other gyms and studios in their area, this could cause issues for you since it allows the competition to be available at all times.
Mindbody vs Vagaro – Pricing and Plans
Mindbody
As I have already shared, Mindbody is more expensive than Vagaro, but I haven't broken it down. So, let's look at the pricing and what all it entails…
Includes the ability to schedule classes and manage your clients and staff.
One step up from the most basic packages, this one unlocks many features, including, but not limited to: running comprehensive reports, mobile friendly booking, and building customizable emails.
At the second-highest package, your features, again, have greatly increased. With ultimate, you can now prompt clients to leave reviews, automate your emails and text message marketing, incentivize others by offering rewards for referrals, and more.
$599/month – Ultimate Plus
As expected, the Ultimate Plus unlocks all the features that Mindbody offers. At this point in the software, you can create and brand your own mobile app, which is huge.
Vagaro
From the looks of it, Vagaro has a completely different pricing system. They price access by the number of people who are working for you. It goes up $10/month for each new employee you add to your staff. With this price, you get access to most features, including calendars, online booking through 3rd parties, most features with customer tracking, and access to the mobile apps.
$25/month – Self-employed
$35/month – Two employees
$45/month – Three employees
$55/month – Four employees
$65/month – Five employees
$75/month – Six employees
$85/month – Seven or more employees
But, it's important to note that there are more features you can buy into. For example, most of the marketing features are add-ons ranging from a $10/month in app shopping cart to a $200/month customized and branded app. Other add-ons include: $10/month website builder, $10/month Vagaro drive, partnered payroll with Gusto, and fees for processing online purchases and bookings. So, it looks more affordable than Mindbody if you have limited employees and don't need some of the beefier features.
FAQs