Trying to find a fitness program that will help you with your goals, target your lower body area, and promote a successful cardiovascular workout each time you sit down? Recumbent exercise bikes are easy to use at home because you can work out while reading, watching television, and continue to find gains in your lower body. Since their popularity has grown around the world, you can expect to have several bike options that are both affordable and will assist with your goals. 
Best Recumbent Exercise Bikes Under $500
While there are many recumbent exercise bike models out on the market, below are the top five options that you should consider if you are planning to make a change and add one to your home gym. 
Probably one of the easiest to assemble recumbent exercise bikes is the Nautilus R616 Recumbent Exercise bike. It is also on the higher end of the budget, but it comes with 25 resistance-level options for riders to enjoy during their workouts. There is also a 2 Dual-track display on the bike, offering at least 29 workout programs you can customize for your needs. Since it links to Bluetooth, you can link almost any fitness app to your workout so that you can store your data accurately and include these workouts in your daily count. Choose apps like MyFitnessPal, Explore the World, or other common apps that keep a record of your health data. 
Easily store your water bottle right on the bike so you do not have to stop your workout to get a drink of water. This allows you to stay comfortable and keep the momentum going. Speaking of comfort, you want to take note that they have completely padded the oversized seat on this recumbent bike and it comes with a sliding seat rail. You can adjust the seating to fit your comfort level so that you can work out longer and harder if you choose. 
Pros:
Comfortable seating and support that are oversized 

25 levels of resistance that boosts your ability over time

20+ workout programs that are customizable

Free Shipping
Cons:
Heavier resistance bike than competitors

More expensive bike option
---
One bestseller currently on the market is the Schwinn 230 Recumbent Bike, a contender that is full of resistance and also technology. The featured highlights of this bike include the comfortable seat that is made with lumbar support so that you can have longer rides as your fitness goals change. Speaking of goals, the different resistance levels include 16 options on the Schwinn 230, so that you can build up the intensity of your workouts or have lighter resistance.
With the streamlined console, you can customize your workout options and even refer to previous workouts from before. The technology has to be as profound as the performance. The Schwinn 230 is compatible with the Zwift app if you use that regularly, allowing you to store your data in the system and keeping your goals and counts accurate. You can save two profiles on this bike so that you and another member in your home can stay accountable for your goals. 
Pros:
Only 80 pounds which is lighter than other bikes
16 levels of resistance available
Padded seat with lumbar protection
Zwift app compatible
Free Shipping
Cons:
On the higher end of the budget side
Other recumbent bikes offer more resistance options. 
---
Marcy Regenerating Recumbent Exercise Bike with Adjustable Seat, Pulse Monitor and Transport Wheels...
Cut the cord. This bike is equipped with a regenerating motor that allows you to power the computer as you pedal; you are no longer tethered to the outlet and can workout anywhere you want. Recharge...
The sturdy steel frame combines both design and performance. Its step-through design lets you get on and off the bike easily | The counterbalanced strapped pedals conform to your foot's build to...
Product dimensions – 57" L x 24" W x 42" H | Weight capacity – 300 lbs. | For users between – 10 to 99 years | 3.5mm jack input | Freewheel – No | No electrical connection required,...
Comes with a manual magnetic resistance mechanism with 23 programs and 24 levels of resistance that simulate the effect of biking in different terrains
Designed to provide ample space for the legs, this bike boasts an adjustable padded seat to accommodate most users | Its lever-based System allows quick adjustment of the seat even while seated
One of the best recumbent exercise bikes under $500 is the Marcy Recumbent Exercise Bike ME-706. This bike is a little heavier than some of its competitors, but it does not lack in quality. This bike has 24 levels of resistance, which is much more than some of its competitors in this class. It already comes with adjustable foot straps so that you can expand or tighten them to fit comfortably around your feet when you are riding. 
Being able to move your recumbent exercise bike so that you can maximize your space is easier with standard transport wheels. You can easily pull the bike out of the way and put it in another area for storing without destroying your floors or your back. 
Pros:
Lots of resistance levels available
Lithium ion battery
Adjustable foot straps
Transportation wheels
Cons: 
Weighs more than its competitors
---
Sale
Circuit Fitness Recumbent Magnetic Exercise Bike with 15 Workout Programs, LCD and Heart Rate...
HEAVY-DUTY CONSTRUCTION: This equipment features a high-grade steel frame that combines design and performance. The step-through design facilitates quick entry and exit from the bike. The heavy-duty...
15 WORKOUT PROGRAMS: Created for fitness enthusiasts of all skill levels, the AMZ-587R comes with 15 programs that can simulate the effects of biking in different terrains, allowing you to personalize...
ERGONOMIC HANDLES AND SAFETY PEDALS: This gear has textured pedals with straps to prevent your feet from sliding. Its two pairs of contoured handles allow for comfortable gripping when you're...
TRACK YOUR PROGRESS: This bike comes with a handy LCD monitor that lets you check distance traveled and current speed while keeping track of time elapsed and calories burned. Equipped with pulse...
ADJUSTABLE SEAT: This recumbent bike boasts an adjustable padded seat that can be moved forward or backward while slightly adjust the elevation to accommodate each individual user's leg length. This...
If you need a bike that will let you hold your tablet and your water bottle in the same session, the Circuit Fitness Recumbent Magnetic Exercise Bike might be the right option for you. Being able to either watch your favorite shows, get caught up on some reading, or play a few games while you get your workout in will keep you motivated and keep pushing through until your workout is over. 
The circuit fitness recumbent magnetic exercise bike is easy to use as it has a step-through design with a wide opening so that everyone can easily get on the bike and do their workouts. With the transport wheels, you can also move the bike when you need to use the space, whether you move it daily or on special occasions. It does not take up a lot of room and can fit easily in a corner of your home or apartment. 
Pros:
Lower cost compared to competitors
Easy to sit and use with wide step-through opening
Tablet and water bottle holder. 
Cons:
It does not have as many resistance levels as other competing bikes
It is one of the heavier bikes, making it a little harder to move around
---
Sunny Health & Fitness Programmable Recumbent Bike - SF-RB4850, Black
MAGNETIC TENSION: Modifying resistance on this in-home cardio machine is easy. Use the console to cycle through 16 levels of computer-controlled magnetic resistance.
WORKOUT MODES: This magnetic recumbent bike is equipped with 12 workouts presets. you can also cycle through manual, user-customizable, target heart rate and wattage workout modes to test your cycling...
DEVICE HOLDER: Watch your favorite workout videos, television shows, or browse the web when you place your phone or tablet in the device holder while you work out.
PULSE GRIPS: This bike has two seat-level pulse sensors that are easy to grab while you work out. Use the data from the pulse sensor to gauge your performance. Grab the ergonomic handlebars to...
COMFORTABLE DESIGN: Enjoy both quick and enduring exercise sessions on the wide bike seat and mesh back support. The step-through design makes it easy to mount. Place your feet in the wide foot pedals...
Somewhere in the middle of your budget, you will find the Sunny Health & Fitness Recumbent Bike SF-RB4850 and find that it may be a winner for you. This bike comes with 12 preset workouts available for you to choose from, and you can even comfortably place a tablet so that you can stream your favorite shows. While you are getting your workout in, the pulse grips will monitor your heart rate and display it for your convenience. 
As you go through the 16 different resistance level options on your recumbent bike that are preset, you may find that you want to customize a workout and resistance level to test your levels and attempt to boost your stamina. While you workout, relax against the wide back support made of mesh and a comfortable seat that can slide back and forth as needed. 
Pros:
Step-through design that makes it easy to sit and use
Weighs less than other competing bikes, making it easy to transport
Uses magnetic tension for the different resistance levels
Cons:
Fewer resistance levels available for users
Less preset workout options available 
---
Should I Buy a Recumbent Exercise Bike for Under $500?
If you are looking to add some equipment to your home gym that targets your lower area and helps you boost your cardio, then a recumbent exercise bike is the right option for you. As the weather gets cooler and it becomes too difficult to go outside biking, this is a great alternative to keep your muscles active and even target new areas. If you are someone who has difficulty on a regular bicycle or needs something that is stable and easily accessible in your home, the recumbent exercise bike does not take up a lot of room and is easy to use. 
How To Choose Best Recumbent Exercise Bikes Under $500?
Before you choose the right recumbent bike under $500, consider several components of each bike to determine which is right for you, your health goals, and will it motivate you to stay active year-round. 
Seats
No one is going to use a recumbent bike regularly if they are not comfortable when they sit on the machine. It is critical that because you are spending the entire time sitting on the recumbent bike that you are comfortable and compatible with the seat. They equip most of these bikes with large seats, especially those that are ranked at the top for recumbent bikes. They should have adequate padding in them also because if you sit on a seat without padding for too long, you will not want to sit on it again. 
Besides the seats is the need for lumbar support. While anyone at any fitness level can use these recumbent exercise bikes, they are one of the few options for a certain group of individuals. There are many individuals looking for a fitness option that is good on their back, so lumbar support and having that support in the seating area is critical for any quality recumbent exercise bike. 
Console
Can you read the console on your recumbent bike? Is it easy to operate? When you turn it on, it should be easy to use and operate when you sit down for a workout. The best consoles connect with accessories, linking to Bluetooth and allowing you to listen to your favorite tunes while using your favorite program. The best recumbent bikes come with large screens that provide and even store pertinent information, such as the calories, speed, body fat, and pulse while you are working out. 
Accessories
There are several accessories to consider when you are looking at the best recumbent exercise bikes under $500. Things like transport wheels are essential for those who need to move the bike around because they have little space. Senior customers should not be lifting exercise bikes, so transport wheels are essential. 
In order to make your ride smoother and keep your feet locked into place, pedal straps are also an accessible option. If you have the problem of your feet slipping regularly, you can purchase straps to hold them still and get the most out of your workout. 
What is the Best Recumbent Exercise Bike for Home?
If you are looking to get the best bike out there with an approximate $500 budget, the best option may be the Nautilus R616. With 25 levels of resistance and endless app access, you can truly keep and store the data you want. A ventilated back seat on this bike also makes it one of the most comfortable options, especially for those who are suffering from a back injury or chronic back pain.
The best thing about this bike is that you can start as a beginner and navigate through so many levels, reaching fitness goals that you may not have thought were possible for you. The transport wheels also make this easy to move around your home so that you can work out with any view you want.
Best Recumbent Exercise Bikes Under $500 FAQs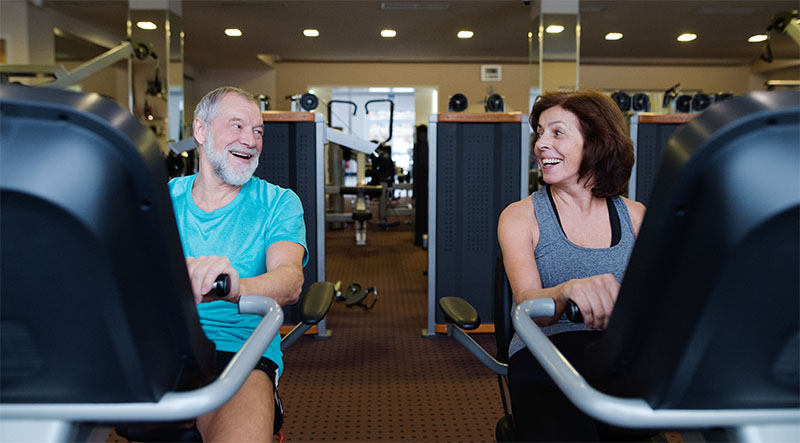 Before you decide on the right recumbent bike for you, there are some common questions customers have and what they can expect when they purchase their recumbent bike. 
Q: Are Recumbent Exercise Bikes Under $500 Any Good?
A: The quality of a recumbent exercise bike under $500 is still good quality, especially for a home gym or apartment living. These bikes come with the option of multiple profiles for you and at least one other person to use for fitness goals. Because of the seat and back support found on these bikes, they are also safe to use, so they are good for anyone at any fitness level, especially those who have health restrictions and need options that are modified. 
These recumbent bikes are also ideal for customers who live in small apartments and do not have room for the larger bike options that are available. They come with several features with Bluetooth and advanced consoles so that you can have your technology and fitness all in one. They are affordable and target important areas, such as the core, when you are working out. The recommended 30 minutes of daily exercise is easy and convenient on a recumbent exercise bike.
Q: Are Recumbent Exercise Bikes Good For Weight Loss?
A: Recumbent bikes are excellent options for weight loss. They are ideal for customers who may just be beginning their fitness journey and need something that will allow them to work out at their own pace. Even customers who are not mobile or are getting older find this to be a great way to improve their cardiovascular health so that they can stimulate their heart and continue improving their overall fitness while losing unwanted pounds. 
Even those who are more advanced, but need to ramp up their cardio find the recumbent exercise bike is an excellent option. If you are looking to lose some inches in the lower area, you can sit comfortably and take on your lower body. The different speed and resistance levels allow you to force your body to burn calories and lose those extra pounds. 
Q: How Much Should I Spend on a Recumbent Exercise Bike?
A: If this is your first recumbent bike, and you are new to the equipment, set your budget at a max of $500-$700. Bikes that cost more than this are often commercial grade, meant to be used around the clock by multiple users. They are often heavier than those at $500 or below, making them less friendly for the home. For senior customers who are looking for a bike that will work right in their home and allow them the ability to get their exercise in without getting out in the weather, these bikes are excellent options.
The best recumbent exercise bikes under $500 also allow you to use personalized technology and even connect to some of your favorite apps, like Zwift. You do not need to spend a fortune on equipment in order to get a high-quality workout and maintain your fitness goals.