Mindbody Review
In the past, we've discussed the different ways you can become a certified personal trainer, but what if you want to take things to a completely different level? Maybe you are considering opening up your own gym or fitness club?
Whether you have your own studio or club already or you are considering it, you may feel overwhelmed with all the moving parts it could entail. You've got to have a platform for clients to book and schedule classes, pay for classes, receive updates and information and so much more.
The wellness and fitness industry is booming, and it's an incredibly competitive market. People are looking for easier ways to pay and track their fitness. That's where Mindbody comes in!
What Is Mindbody?
Mindbody is a cloud software suite that gyms, fitness centers, yoga studios, personal trainers, spas, salons and more can use to run their business. This platform is a one stop shop that makes everything easier on you as the owner as well as your clients!  Your clients can install and use the Mindbody mobile app to be able find, book and pay for classes or bookings.
Who Uses MindBody Software?
With time, more and more health related companies are using MindBody to help manage their businesses, as well as their bookings.
— Fitness Clubs                                                   — Personal Trainers
— Yoga Studios                                                    — Health Clubs
— Pilates Studios                                                  — Dance Studios
— Salons                                                              — Massage Therapists
— Spas                                                                  — Martial Arts Studios
How Mindbody Can Help Your Business
It can boost your business in a multitude of ways, which we'll be covering in this Mindbody review. From targeted marketing and getting your business in front of the right people to creating a streamlined experience that will leave your customers wanting more, Mindbody seems to have it all in helping bring success to your business!
Automation
This software does an excellent job at automating many daily tasks you would otherwise be required to perform by manual entry.  It does this through the many backend features built into the Mindbody software.
The CRM database is the heart of the Mindbody package.  When a new client registers and is added to the database, all information and activity (class bookings, membership purchases, attendances, etc) related to that client are automatically recorded and tracked.
Marketing campaigns can be launched using email software that will use the Mindbody database.  This means you don't need a separate email database to launch campaigns.  You will be able to email or message current clients – you don't need to worry about whether they have signed up or subscribed to a separate mailing list.
Another example of automation is the built in scheduling and calendar.  Both your schedules and calendars (of which you can have multiple) are easily and centrally updated.  Bookings and class sign ups can be made from your publicly viewable calendars (this is called self booking).  If clients don't feel comfortable booking a class, an employee can book an appointment for clients.
Cloud Based
Another great thing discovered while doing this Mindbody review is that it is cloud based.  This means there is no software to install or maintain on a local machine.  As long as you have an internet connection, you will be able to securely access the application and manage your business.
The benefits of having your business software cloud based are many.  Here are a couple..  With cloud based software (such as Mindbody), you can access your business software anytime from anywhere as long as you have internet access.  Need to change the class calendar or booking availability at 10pm from home?  No problem, hop on your laptop, log in and change it right then and there!  Another benefit of being cloud based is you don't need to spend money on a computer to install the software or paying a contractor to maintain and backup your software.  Mindbody takes care of all that for you!
Performance Tracking
The fitness tracker market has been estimated to be growing at a 20% rate from 2017 to 2023.   Today, most wearable smart watches sold today come with some form of fitness tracker built in to them.  Most people that use some type of fitness tracker say it has helped to improve their life.
FitMetrix has been a successful Mindbody platform partner since 2015, delivering technology that makes it possible for fitness studios, gyms, and health clubs to integrate custom-branded performance tracking with gym equipment and wearables.
With FitMetrix:
You'll get highly interactive tools to help your trainers create personalized experiences for your customers.
Track real-time results, making it possible to display progress, rank participants during competitions, and instantly reward progress.
Consumers can book specific bikes, boxing bags, and treadmills equipped with FitMetrix tracking so they can keep tabs on their own heart rate and performance metrics, both at the gym and via mobile app.
Detailed Reports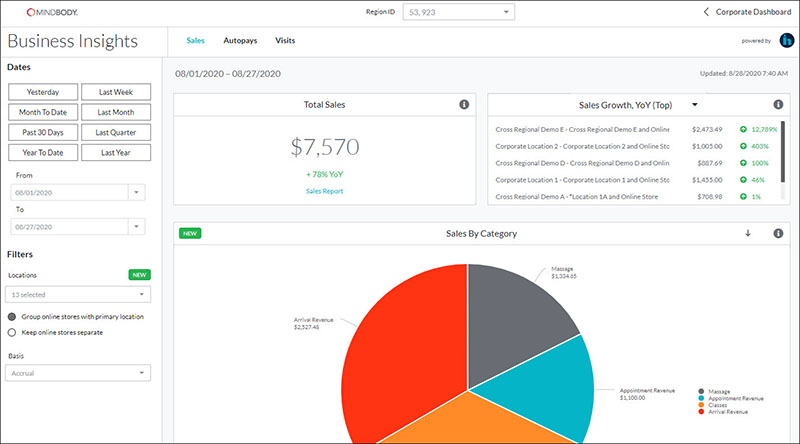 When running a business, you need the ability to view data quickly.  Important business decisions depend on having detailed reports at your fingertips.  Thankfully with Mindbody that is possible.  Reports can be generated across multiple business areas such as sales, marketing, administration and client management, etc.  The depth and number of reports the software can produce is quite amazing.  Since all of your business data is stored in a single location, generating reports is very easy.
Here are a few examples of reports that can be generated:
Most popular instructors
Most attended classes
Membership report
Retention report
Best Pricing Structures
Visibility
Mindbody has made visibility an important part of its software.  With a subscription, your business is able to be listed in one of the most popular health & fitness, wellness and beauty apps.  This mobile app has been dowloaded by millions of people.
Potential customers can only choose your business if they can find it.  Clients are able to search Mindbody via the web site or mobile app.  Once they find your business, they can go directly to your personal business page.
Interesting Fact
Mindbody is integrated with the Under Armour's
MyFitnessPal App
, making it possible for app users to find and book fitness classes directly on MyFitnessPal.
Streamlined
We've looked at how this software not only works for customers, but also for the business itself. From top to bottom, this in depth Mindbody review has had one theme, and that's how streamlined this software is.
Business Experience
Now that you can see there are many features that make the customer experience one that is both easy and enjoyable, let's get into the review from the business side of things.
Scheduling and Payments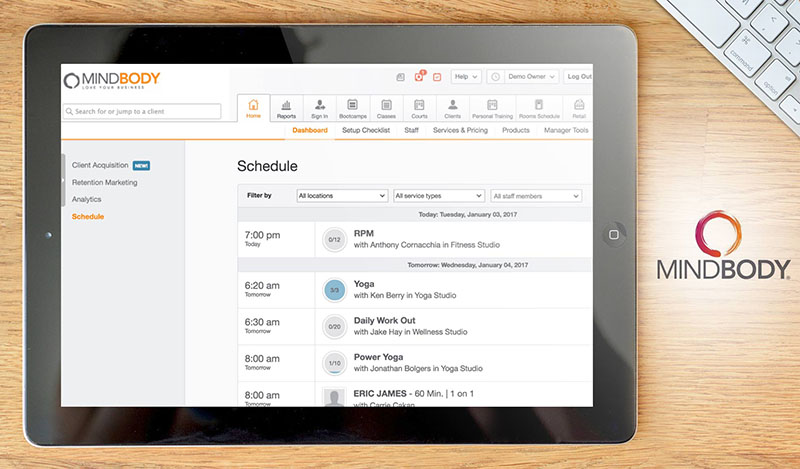 We've already shared above how booking classes and paying instantly is great for your clients, but it is also great for you, the business owner!
Because clients are booking in advance, you can have a better (and more realistic) idea about your business. You can look at trends, notice when the ideal times are for classes, what is getting booked and what isn't! Having this data will help tremendously in planning. You can also use the scheduling information to continue to improve your business.
Along with this, the payments are great because it's instant. There's less speculation. There's less uncertainty. You can offer a class, and people can pay for it as soon as it becomes available! So, as you can see…it's a win-win for both you and your customers!
Boosts Revenue

10 Ways MindBody Can Boost Your Revenue.
1. Clients can self book online or from their mobile device.
2. More time to focus on growing your business by using the automation features of Mindbody.
3. Detailed sales reports by class and product
4. Auto reminder texts to clients
5. Manage staff and schedules
7. Ability to access Mindbody from anywhere, anytime
8. E-mail marketing
9. Can receive payments anywhere there's an internet connection
10. Business included in the Mindbody app and Under Armour's MYFitnessPal app.
Marketing
For newcomers onto the fitness scene, Mindbody can make marketing easy and incredibly effective! There are several things that Mindbody does for marketing, but one of the most effective is its ability to allow you to create and promote special offers throughout the app. This is a great way to pull in first-time clients and get an edge on your competition!
Of course, there are other ways that you can get your business seen through marketing with Mindbody, and a lot of that has to do with its exceptional integration abilities…
Facebook
As mentioned earlier, integration with Facebook is great for customers because it eliminates extra steps between them and booking your classes. It's also a great way to market and draw more attention to your studio and all the wonderful things that you offer!
Google
There are several ways that Mindbody integrates with Google! Foremost, when a customer books a class, they can sync it with their Google calendar! Also, if you list your business with Google, your customers can view and book your classes from Google—without ever having to go to the website or mobile app! Can it get any easier and integrated than that? While Google takes 10% for each booking placed through them, it is definitely worth it with the extra views and clicks you'll be receiving.
Email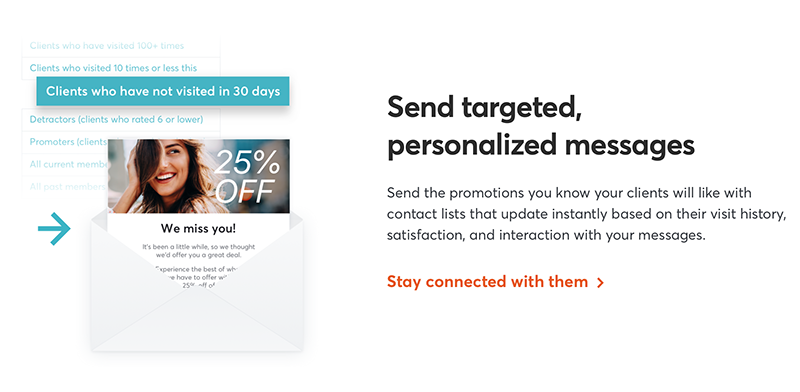 Through the easy to use Mindbody application, you can create automated, targeted, and personalized emails that will not only retain your current clients and keep them happy, but draw in new clients who have expressed an interest. Being able to create and send automated email campaigns through the Mindbody app is an amazing feature!
Smart Contacts
As stated above – marketing, emails, texts, and messages are important in retaining current customers and getting new ones. But smart contacts are also helpful for you because it allows you to keep up with your customers' contact information and store it in one place.
Not only does it store information, but will provide you with key information that can guide what kind of communication to send. For example, you could set an automated message to send to all clients who haven't booked a class in two weeks. The message could say something like, "Hey, we miss you!" Something as simple as that can make a big difference!
Memberships
Memberships mean recurring revenue and any fitness related business should offer memberships.  Recurring revenue is often referred to as the holy grail of business.
Recurring revenue is stable monthly or annual revenue.  It has lower marketing costs than a single one time sale.  Any business that is able to utilize memberships, should work hard to increase membership sales and retain its members.
Mindbody allows fitness based businesses and spas to create and customize membership based packages.  It also allows you to created different membership tiers that match the needs of your clients.
Client Retention
Client retention is important – it is just as important as bringing in new clients.  Even more so if you offer memberships as mentioned in the above section.  With Mindbody's above outreach tools, it is easy to stay in touch with your clients to remind them of upcoming classes, their performance metrics, any specials you are running, or just to say – hey, we miss seeing you.  While being able to do all of that might seem insignificant, it is not.  It will help to add convenience and value, while making your clients feel appreciated.  How could it not help to increase client retention?
Reviews
Reviews are a great way to draw new customers. Mindbody allows customers to review your establishment, which will not only provide you with the crucial feedback you need to keep improving, but is also a heavily used feature for people who may be on the fence about joining for a class.
In recent years, more and more people are purchasing services and goods online. Because you don't have the experience beforehand, or maybe you don't know a person who has taken the class before, people are relying on the opinions of strangers through reviews. If you can maintain great reviews, you'll continue to build momentum and success!
Staff Management
You're probably thinking, there can't possibly be any more reasons to sign up for Mindbody if you're starting up your own fitness studio, but there's one more piece to the puzzle! And that piece is managing your staff. Whether you have independent trainers using your space or employees, this software allows you to see the analytics on the instructors—their schedule, how many customers are signing up, and the services offered. You can even see their ratings and reviews from previous customers who have taken their classes.
Customer Experience
In this Mindbody review, one of the biggest draws we noticed is its focus on customers. It is the one-stop shop for everything your customer could want in a software that is centered around fitness. As you can see below, there are some key ways that it creates a customer experience that is both seamless and enjoyable, including personalization, scheduling, payments, and more!
Personalization
Customers can create their own profiles, allowing them to personalize their experience on your website or in the mobile app. They can set their preferences, customize their profiles, and view their fitness history when booking classes.
It may seem like a simple thing to do, but it can really make a big difference for your customer's overall experience!
Appointment Scheduling
No longer are the days where you just show up to the gym, not knowing what classes they are offering for the day and signing up on the spot. With the Mindbody web interface or mobile app, customers can easily see what's available from anywhere.
Appointment scheduling is a huge draw for users and owners alike. It's incredibly convenient for your potential clients to open the mobile app and see what classes you have available, learn more about the classes, how many spots are available, and book them instantly. Now, Mindbody has integrated with Facebook, which means customers can sign up from social media without navigating to another site! But we'll discuss more about that later..
Accepts Payments
Not only can your customers schedule, book, and view classes, but they can also pay for them! Mindbody can accept payments instantly. This is great for you, the business owner, but it's also great for the customer.
There's a certain level of motivation that occurs when you've already paid for a class in advance! You've already paid, so you better get off the couch and go!
FAQ
What is Mindbody Software?
Mindbody is a cloud software suite that gyms, fitness centers, yoga studios, personal trainers, spas, salons and more can use to run their business.
There is also a Mindbody mobile app that your clients can install and use to find, book and pay for classes.
Does Mindbody Allow You To Offer Virtual Trainings or Classes?
Where is Mindbody Software Installed?
Mindbody is a cloud based application, which means it is not installed on a local computer but rather is run and accessed from the Mindbody cloud. As a business owner, that is a good thing. You don't need to worry about purchasing expensive computer hardware to install Mindbody on. Any normal laptop or desktop computer connected to the internet can access Mindbody!
How Much Does Mindbody Cost?
For the Fitness industry (Gym, Yoga, Pilates, Barre, Martial Arts, etc), there are four plans. Starter: $139/month, Accelerate: $279/month, Ultimate: $499/month, Ultimate Plus: $699/month
With the Fitness starter plan you get the following: You can list your business and services in the Mindbody app; Schedule classes, appointments and resources; Manage clients and staff; and you have the ability to run basic reports. We suggest beginning with the starter plan and moving up from there as your business needs dictate. Click here to join and save!
For the Salon or Spa industry there are four plans. Starter: $129/month, Accelerate: $269/month, Ultimate: $429/month, Ultimate Plus: $549/month
With the Salon or Spa starter plan you get the following: You can list your business and services in the Mindbody app; Schedule appointments and resources; Track client details and history; Manage active staff profiles; Send text notifications and reminders (1-way up to 3000). Just as above, we suggest beginning with the starter plan and moving up from there as your business needs more. Click here to join and save!
Conclusion
If you're starting a new business or trying to make a current one work, you will quickly realize what all it can entail. It's quite the beast. When you want to open a fitness, yoga studio or gym, it's not as simple as just opening the physical space. You've got to get the word out. You've got to get people interested. You've got to get people in the door and keep them coming back.
The single best thing about Mindbody is that it takes all of that overwhelming feeling away. It has everything you need in one place. From the marketing side, with sending email and analyzing data to simply booking and paying for the classes, you don't have to create these different things and avenues to get it all accomplished. It's simply right there, ready for you to use it. And that is the best and most important part of using Mindbody Software.