Since their first appearance in the late 1990s, ellipticals have taken the fitness world by storm as a wonderful, lower impact, indoor cardio alternative. Since then, they've become a very popular piece of workout equipment that many add to their home gyms. 
If you're considering investing in an elliptical, then you've come to the right place! We're going to be exploring the best ellipticals under $1000, what their benefits are, and what to look out for when selecting one that is best for you! 
IN A HURRY?
Preview
Most Popular
Best Deal
Most Popular
Preview
Best Deal
Preview
Best Elliptical Under 1000
Everyone is different and has different preferences for their fitness routines and goals. Because of this, these best ellipticals under $1000 are in no particular order! 
Sole E25 Elliptical 
If you're looking for a traditional elliptical that delivers on performance and you aren't as interested in all the bells and whistles, the Sole E25 Elliptical could be the best elliptical under $1000 for you.
Specs
One of the big draws for this elliptical is the warranty. It has a lifetime warranty on the frame with smaller warranties on the mechanics, but you won't find another with such a great guarantee. This elliptical has a solid weight capacity of 350 pounds and is 70 inches long and 24 inches wide.
Features
While it may not have all the "bells and whistles" of unlimited automated programs, it still has a lot of the essentials and then some. Here are some of the many features…
Bluetooth speakers
USB connector
Tablet holder
Pulse monitor
Chest strap for heart rate included
Quiet drive to limit noise
Cooling fan
8 workout programs
20 levels of resistance
Power Incline
Reviews
The Sole E25 received 4.3 out of 5 stars overall. Most reviewers raved about its solidity and long-lasting nature, noting using it for many years. One reviewer noted it is great if you enjoy watching a show from your iPad or tablet, tuning out, and getting a good workout in. The most discussed drawbacks of this elliptical were the sound of the fan being louder than ideal and the fact that it was a little complicated to assemble. 
---
Schwinn Fitness 470 Elliptical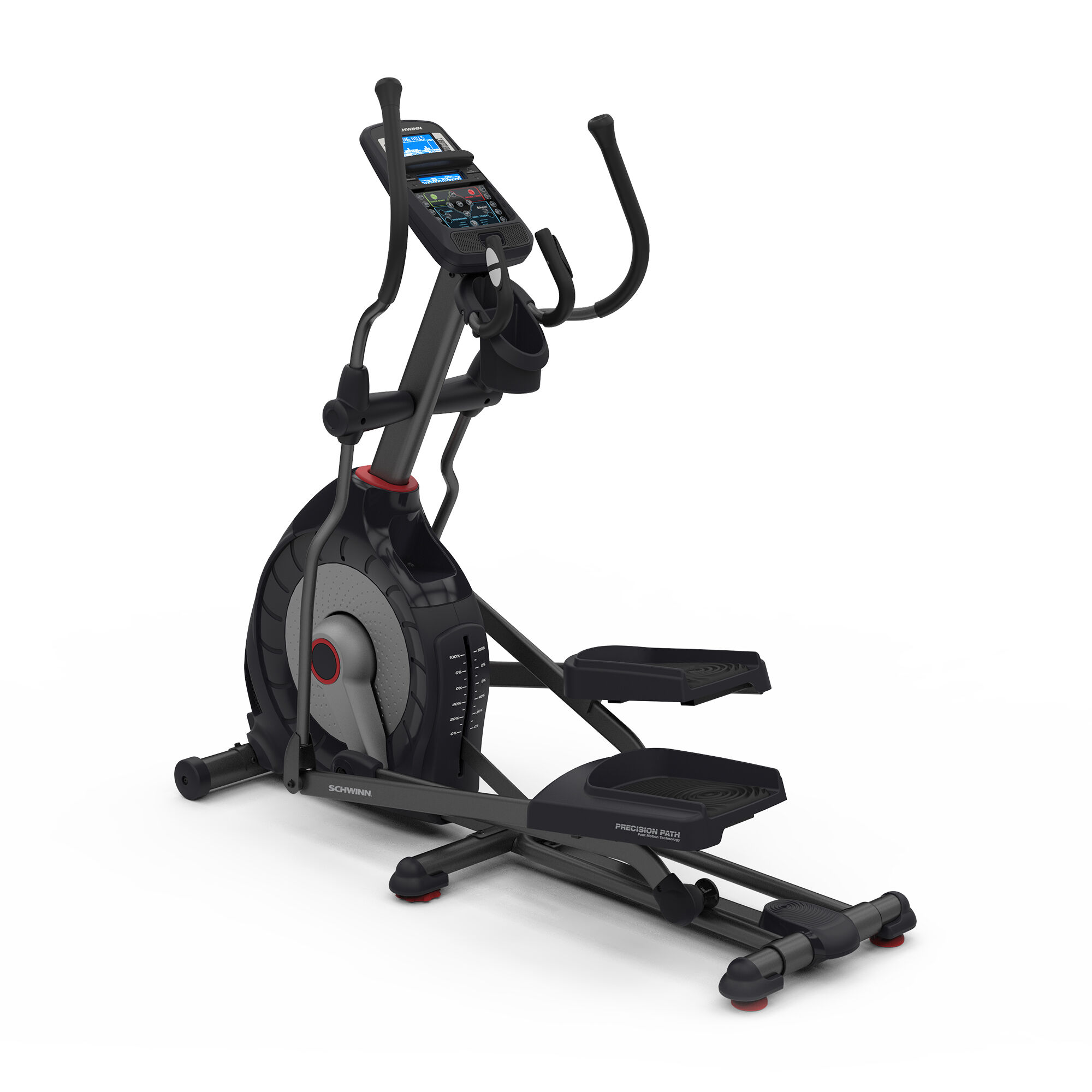 Schwinn is a household name in the fitness world, typically known for its bikes, but their elliptical seems to hold its own weight. The Schwinn Fitness 470 Elliptical has a solid warranty, comes with plenty of inclines and resistance, and has a great number of interactive programs.
Specs
This elliptical is also pretty heavy, weighing in at 186 pounds, but it has a 300 pound weight capacity, which seems pretty standard for these machines. In terms of the size of the machine, it seems slightly below average, with a length of 63.2 inches and a width of 28.2 inches. The warranty is pretty impressive with 10 year coverage for the frame.
Features
LCD display screen
Tablet holder
Bluetooth connectivity
Over 50 global routes
29 workout programs
25 Resistance Levels
Contact & Telemetry pulse monitor
Fan
Reviews
This elliptical on our list of the best ellipticals under $1000 received 4.2 out of 5 stars when reviewed by owners of the machine. Most shared that they appreciated the dependableness and reputability of the company, while some shared that they experienced issues with some parts or needs for repairs. 
---
Nautilus E616 Elliptical 
In all honesty, the Nautilus E616 and the Schwinn Fitness 470 sound incredibly similar in specs, features, and even reviews. If you're looking for an elliptical that offers a great number of programs within the machine with a good warranty, then you may need to dive deeper into research to determine which will really be a best fit for you.
Specs
Weighing slightly less than the Schwinn elliptical, this one weighs 173.3 pounds, which is still pretty hefty. Its dimensions are 70 inches long and 28 inches wide and it has a maximum weight of 300 pounds. The frame warranty with this elliptical is also 10 years! 
Features
LCD display monitor
50+ global routes that auto-adjust in real time
Explore the world app
29 programs
25 levels of resistance
Contact pulse monitor
Chest strap included
Tablet holder
Reviews
This elliptical received 4.1 out of 5 stars from customers. One interesting note that many reviewers made was that it can feel more like a step master than an elliptical. Many shared that it still feels low impact, but just seems like a different ride from a traditional elliptical. 
---
BowFlex Max Trainer Series 
Bowflex Max Trainer M3
Max activates muscle and helps incinerate calories in every full-body workout
Combines the easy low-impact motion of an elliptical with the calorie burning power of a stepper
Max can deliver the cardio benefits of interval training in as little as 14 minutes
Max's unique burn rate display shows how many calories burned per minute and sets activity level targets
Target zone and burn rate indicators motivate you by setting targets to help you achieve your goals
Now, I know I said that the Sole E25 didn't have a bunch of the fancier features, but the BowFlex Max M3 seems even more basic. Similar to the Sole, it doesn't have many customizable programs, but it is a solid piece of machinery that can get you a great workout in a short amount of time. The one thing that stands out about the BowFlex is the fact that they gear it to be used for more high-intensity workouts. So, if that's your thing, this could definitely be the pick for you! 
Specs
This elliptical is pretty heavy, weighing in at 138 pounds, but it definitely takes up less room than many of the others on this list, with dimensions of 46.5 inches long and 26.5 inches wide. The weight capacity of this machine is 300 pounds, and the best warranty I could find offered for the BowFlex is a one-year warranty, which isn't the best, but it's better than nothing. 
Features

Here are some of the many features that come along with this top elliptical under $1000:
Workout history tracking
Chest strap included
Target zone and burn rate indicators
2 workout programs
8 levels of resistance
Transport wheels
Reviews
This BowFlex elliptical received some of the highest ratings out of the others on our list of the best ellipticals under $1000. It received 4.6 out of 5 stars, with many people noting being happy with the intensity and quickness of the workouts while still achieving excellent results. When looking at the breakdown of the reviews, noise level was the lowest rating at 4 out of 5 stars.
---
Teeter FreeStep Cross Trainer and Elliptical
Sale
Teeter FreeStep Recumbent Cross Trainer and Elliptical (LT1)
ZERO-IMPACT EXERCISE: Ideal for all fitness levels. The naturally-reclined seated position eliminates stress on the joints and back and reduces body fatigue while delivering a total body, fat-burning...
WHISPER-QUIET, FLUID STRIDE: The natural striding motion follows a smooth, linear path to protect your knees and joints. With 13 levels of smooth magnetic resistance, a simple turn of the dial takes...
TOTAL BODY WORKOUT: Dual power motion works your upper and lower body simultaneously, engaging all major muscle groups to build strength and burn more calories. Modify the workout by isolating your...
SMART DESIGN: Track progress with the easy-to-read, battery-powered digital console; device stand and water bottle holder; convenient transport wheels.
COMMERCIAL-GRADE ENGINEERING: Friction-free linkage system means long-lasting use; Low-profile 54" x 38" footprint.
This will definitely be the most unique piece of workout equipment on our list of the 6 best ellipticals under $1000! The Teeter Freestep Cross Trainer and Elliptical would be ideal for the person who wants an elliptical with as minimal impact on your joints as possible! This isn't your traditional elliptical, as you are using it from a seated position.  
Specs
This elliptical really doesn't weigh too much at 110 pounds, and it is 54 inches long and 29 inches wide. The weight capacity is 300 pounds, which is pretty average. I couldn't find mention of a warranty, so that's something you should check into before making this investment! 
Features
Zero-impact exercise
Tablet holder
Small digital display
Transport wheels
Adjustable resistance
Reviews
The reviews for the Teeter FreeStep are pretty high at 4.5 out of 5 stars. I think it's really important to note that reviewers gave the noise level a 4.7 out of 5 stars, which means this could be the quietest machine on our list of the best ellipticals under $1000! Other reviewers rave about the inclusiveness of this machine as it is great for people with joint issues, back issues, or other limiting injuries or disabilities. 
---
Sunny Health & Fitness Magnetic Elliptical Trainer 
Sale
Sunny Health & Fitness Magnetic Elliptical Trainer Machine w/ Tablet Holder, LCD Monitor, 265 Max...
SMART RESISTANCE: Computer-controlled magnetic resistance uses your heart rate reading to ensure that you're exercising within the optimal heart rate range to meet your goals. If your pulse is too...
20 INCH STRIDE LENGTH: Open your stride as you move through 20 inches of fluid gait motion. The increased stride length increases the joined range of motion and muscular stretch to stimulate larger...
PRE-LOADED PROGRAMS: Select one of 12 pre-loaded programs that provide a variety of training intensities to help you chose the right program to fit your goals.
WORKOUT MODES: With 7 basic workout modes, this magnetic elliptical can help you train specifically for watt output, target heart rate, or heart rate control. Use the manual mode to control variables...
PULSE MONITOR: Check your pulse rate safely at any moment during your workout with the centrally located pulse sensors.
Next to last on our list of the best elliptical under 1000 is the Sunny Health and Fitness Magnetic Elliptical Trainer. This seems like another solid choice for your budget with good resistance levels, moderate numbers of programs and workout modes, and a slightly smaller than average frame size! 
Specs
As stated above, this Sunny elliptical seems slightly smaller than average, with its length being 66 inches and its width being 30 inches. It is one of the lightest ellipticals at 143 pounds, but it also has the smallest weight capacity at 265 pounds. The structural frame warranty is 3 years, while the motor and other pieces have a warranty of a smaller time frame. 
Features
LCD display monitor
Device holder
Pulse Monitor
Resistance
7 basic workout modes
12 preloaded programs
Transportation wheels
16 levels of resistance
Reviews
Like some others on this list, the Sunny received 4.2 out of 5 stars, which is good. While a few reviewers wish that the resistance was stronger, most are elated with the performance of this machine! 
---
Schwinn Fitness 430 Elliptical
Number 7 on our list of the best elliptical under 1000 dollars is the Schwinn Fitness 430. It has similarities with its big brother the Schwinn Fitness 470 but does not have all the bells and whistles.
Specs
The 430 weighs in at 165 pounds and has a maximum weight capacity of 300 pounds, like the 470. It is a little longer than the 470 with the length being 70.1 inches and the width of 28.2 inches. The warranty is the same impressive 10 year coverage on the frame and 2 years on mechanical parts.
Features
LCD display screen
Tablet holder
22 Workout programs
20 Resistance Levels
Contact Pulse Monitor
Reviews
The Schwinn 430 received 4.3 out of 5 stars which in my mind is pretty good. A number of reviews complain about the trainer being too noisy and squeaking while some others noted the resistance was too high.
---
Why Buy an Elliptical Trainer? 
You may wonder what is so special about an elliptical trainer? What makes it stand out from a treadmill or a more traditional piece of cardio workout equipment? Well, there are lots of reasons someone may seek an elliptical over a treadmill or stationary bike. Here are just four of the many reasons..
Easy on Your Joints
When compared with running on a treadmill, we have found ellipticals are a lot easier on your joints. If you think about it, running can take its toll on your feet, ankles, and knees. The constant pounding of your body weight with each quick movement can really do some damage over time, especially if you're not warming up and stretching properly. With an elliptical, you are still in continuous motion, but you are not picking up your feet and then pounding them back on the ground. It's more of a fluid and gentle motion that doesn't require a lot of shock absorption. 
So, if you have a history of joint discomfort or you want a cardio alternative in your home to give your joints a break, the elliptical is a top choice! 
Upper and Lower Body Workout
When you're doing other forms of cardio, like biking or running, you're typically using your lower body. You're using your lower body to propel you forward. With ellipticals, however, they have handle bars in addition to the lower part of the machine you use with your feet. These handle bars allow you to use your arms to propel you faster, giving you an upper and lower body workout. 
Has More Options
Stationary bikes can increase resistance, treadmills can change speed and incline, but ellipticals have a variety of options depending on which one you select. They can all change resistance like stationary bikes, but many ellipticals have different settings that focus on different leg and arm muscles targeted. Likewise, some will have programs that can incorporate hill workouts, interval training, and other customizable features. 
Depending on your selection, you can find an elliptical that will allow you to customize your workout more towards your health and fitness goals. 
Equivalent form of Cardio
Some may wonder if the elliptical is as effective as a treadmill since it is less intense on your joints and seems to be a gentler workout altogether. The fact of the matter is that even though this may be true, it has been found to be just as effective for burning calories, according to a study completed in 2010.
Health Benefits of Using The Best Elliptical Under 1000 
As you can see, there are lots of reasons people would want to invest in an elliptical for their home gym. To make matters even more enticing, ellipticals bring on a variety of health benefits. Below, you will find some of the biggest benefits.
Burns Calories
Any piece of equipment that you are using for cardio is going to help you burn calories, and this is still the case for an elliptical. As I mentioned above, ellipticals not only will help you burn calories, but it was found that they burn the same amount of calories as you would burn if you were using a treadmill. And, we all know that running burns a lot of calories! 
So, if your fitness goals include burning some serious calories, either for losing or maintaining weight or simply increasing your fitness, investing in an elliptical could be the way to go. 
Builds Endurance
Despite its low-impact nature on your joints, the elliptical can still make a big impact with your endurance and cardiovascular abilities. The options of the elliptical can allow you to do faster-paced high intensity intervals (HIIT) that get your heart pumping fast and your body tired out quick as well as longer, slower paced traditional aerobic exercises. Either way, the elliptical will get your heart pumping, your lungs working, and your endurance building. 
Burns Fat
Along with burning calories and building your stamina, consistent workouts on the elliptical can help you burn body fat as well. Especially when using the machine for HIIT and other interval workouts, you have a higher propensity to see a leaner physique. This type of training is not only incredibly effective, it's also timesaving. Because you are working faster and more intensely, you can actually work for a less amount of time to see even better results. Talk about a win-win! 
Helps with Balance
The coordination that is required to use the elliptical is a learning curve at first, but once you get the hang of it, it can actually help you with your balance! The constant motion of your feet balances with the movements of your arms with the handles that can activate your core and work on your balance.
If you want to work on your balance even further, you can let go of the handles to work your core even more! Just be sure that the resistance setting is something that you can tolerate without the help of your handles before trying it without them! 
What Muscle Groups Do Elliptical Trainers Work?
Lower Body
More often than not, people associate ellipticals and other cardio machines with working the lower body. While the elliptical works the upper body, it also works several key muscles with the lower body, including: calf muscles, glutes, hamstrings, and quads.
Upper Body
With the handlebars and the option to keep your arms engaged continuously throughout your workout, you are working much of your upper body, not to mention that you're also working your core through balance. The arm muscles you can work when using an elliptical include, but are not limited to, the biceps, triceps, delts, lats, traps, and your pecs. 
Things To Consider in The Best Elliptical Under 1000
Deciding to buy one of the best ellipticals under 1000 is quite the investment! You want to be sure that you're making the best decision for yourself, your lifestyle, and your personal fitness goals. There are several things to consider before you take the plunge and make the investment. Below are just a few.
Resistance Levels
Depending on your fitness level, this may not be as important to you as others. However, some ellipticals have the capabilities to go to higher resistance levels than others. So, if you're starting out already in pretty good shape, be on the lookout for machines with higher resistance capabilities. 
Stride Length
Most ellipticals have a stride length of 20 inches, which is made to accommodate most people ranging from 5 feet 4 inches to 6 feet tall. If you or a family member planning to use the machine aren't within this range, you can find an elliptical to accommodate you. We suggest those between 5 feet and 5 feet 3 inches should aim for finding a stride length of 14-16 inches. For those above 6 feet tall, consider an elliptical with a stride length longer than 20 inches. 
Incline 
While all ellipticals have resistance, not all have an incline option. If this is something that you find incredibly important in an elliptical, then that is something you should be on the lookout for! 
Handlebars
The handlebars on ellipticals can vary somewhat. You will need to research the ellipticals and read reviews before purchasing to know what type of handlebars you will be getting. 
Console
Not all consoles are created equal for ellipticals. They vary in screen size, options, and capabilities, such as heart rate monitoring and Bluetooth connectivity. Before purchasing your own elliptical, be sure to check out the console and all the features it comes with. For example, if you have poor eyesight, make sure that you find a console that has a large display. 
Programming
Depending on your fitness goals and your own motivational level, programming within the elliptical you want to purchase could vary. Some ellipticals come with hundreds of built in workouts and training programs while others simply don't. So before you purchase, determine whether you think this is important to your fitness goals. 
Weight Limitations
Ellipticals can have weight capacities that range anywhere from 250 pounds to 400. For some, the weight capacity will be more important than others, but it should be something that you consider before investing. You want to be sure that you buy an elliptical where you and all the members of your family who will use it feel safe when working out. 
Product Size 
Before purchasing your elliptical, you need to consider its product size along with the space in which you will use it. If you live on the 5th story of an apartment building and you only have a studio apartment, you will really need to pay attention to the size and weight of the elliptical. If you have an entire workout space in the basement of your home, you may want something a little bigger if it will be out all the time. Either way, you will find something that works for you. You've just got to make sure you check the size before purchasing it. 
Product Weight
Like the size, you also need to consider the weight of the product. In my example above, if you live on the 5th story of an apartment building with only stairs, then you've got to make sure that you (and a friend or two) can safely get it up the stairs. Besides installation, the weight is also important depending on where you live and where you'll be storing it.
Noise 
They don't create all ellipticals equal concerning noise. If you live in an apartment or have tiny humans and you can only workout during their nap time, then you'll need to consider noise when purchasing your elliptical. 
Safety Features 
Safety features are an important part of any equipment that has moving parts, which is why it's another thing to consider before buying a best elliptical under $1000. Some ellipticals come with a pin locking system where the pedals won't move when it is not on, while others won't even let you turn them on without a certain pin. These are especially important for people who have small children or who live in a space where they can't easily keep children out of the workout area. While there are many other safety features to consider, be sure to check out your elliptical features before purchasing. 
Warranty 
Warranties are important when you are planning to invest a significant amount of money in a machine or product. Even the ellipticals with the best of reviews could have a faulty mechanism and not work properly occasionally. Be sure to check out your elliptical's warranty and extended warranty options before making your purchase! 
Preview
Most Popular
Best Deal
Most Popular
Preview
Best Deal
Preview