How Long Do Bike Tires Last?
Bike tires, like shoes, car tires, bus passes, and skateboards (you name it) have a certain life expectancy before they become a safety hazard. Think of it this way, the soles of your shoes wear out, as do your car tires. Your bus pass expires and your skateboard or scooter wheels start to break down.
So the question at hand is, "how long do bike tires last"? Typically, average to high-end road tires will last anywhere between 2,000-3,000 miles. Racing tires that are designed for speed and high performance will likely need to be changed after 1,000 miles. Mountain bike tires, when used mainly for trail riding will last between 3,000 to 7,000 miles, however, if you use your mountain bike for daily road commuting, they will of course wear out quicker.
Although your tires may seem like they can get you through one more trip, you are better to be safe than sorry and spend the $30-$100 to replace them before you end up with a flat tire in the middle of nowhere or worse, flying head first over your handlebars when they pop. 
6 Bike Tire Wear Signs To Watch For
Depending on how far, often, and hard you ride your bike, you should do a tire inspection before you head off on your next trip. 
The first and most obvious indication of needing to change your bike tires is the tread pattern. Mountain bike tires, touring tires, and gravel tires all have a significant tread pattern on the main part of the tire that makes contact with the surface. When you see that the tread pattern is starting to diminish, it's a good hint to consider purchasing new tires.

Road tires are obviously different than other bike tires as they have minimal tread patterns, so upon inspection, check to see if they are becoming less rounded, and if such is the case, they will need to be changed.


Cracked rubber – When tires get old (like people) you may start to see cracks in the rubber, usually on the edges of the tread. This is a sign that the rubber is breaking down. 


Cracked sidewalls – Bike tires consist of several layers of rubber and if these layers separate from each other, it will cause bulges or bubbles to appear.


Handling – When your bike tires, as with your car tires, wear down, they start to have less traction. If your mountain bike starts to slide more than it used to or the handling on your road bike feels off, causing you to lose confidence in your ability to control your bike, it may be a sign that you have worn-out tires. 


Holes – Should your tire get a hole or cut in it, you should consider replacing it. While you can always repair a tire with a patch, depending on the extent of the damage, if you are a competitive, long-distance, or trail rider, you may want to replace it, rather than simply putting a bandaid on it. 


Constantly Flat – If you find that your tires are always low on air every time you set out for a ride, you may be better off replacing them. Something as simple as a small thorn or a tiny shard of glass could be trapped between the rubber and the inner tube. There is also a small chance that the tire is just faulty.
How To Make Your Bike Tires Last 
General maintenance of your bike and bike tires will go a long way toward getting as much life out of them as you can. While this might take some time at the end of your ride, a few extra minutes at the end of your excursion can add some extra miles to your tires and keep your money in the bank a little longer. 
Cleaning off your tires after each ride, whether you have a road or mountain bike will help to rid them of any extra grit and rocks that might be stuck in between the treads. 
Make sure that your tires are properly inflated. After long rides or changes in weather, your tires may suffer some deflation. By keeping them at the proper air level, they will perform at optimal levels. Riding on a flat tire can do serious damage to your wheels. The proper tire pressure level should be noted on your tire's sidewall. Mountain bike tires are roughly 25psi, while road tires hover around 130 psi.  
Rotate your tires two to three times a year. Usually, your rear tire will wear out faster than the front, especially when breaking. 
If you are using a road bike, avoid curbs and potholes as much as possible. 
Use the right tire for the surface you are riding on. Mountain bike tires on a road bike aren't going to make for a comfortable ride, nor would road tires on a mountain bike.
Sale
Maxxis - Minion DHF Tubeless Ready Bicycle Tire | 27.5 x 2.3 | 3C MaxxTerra, EXO
MINION DHF: With a tread design that deftly balances rolling speed with braking and cornering traction, it's hard to find fault with the Minion DHF. That's probably why it's one of the most imitated...
3C MAXXTERRA: An intermediate compound configuration used in select mountain tires. 3C MaxxTerra is softer and offers more traction than 3C MaxxSpeed, yet provides better treadwear and less rolling...
EXO: An extremely cut-resistant and abrasion-resistant material added to the sidewalls of select mountain tires. This densely woven fabric is also lightweight and highly flexible, ensuring that the...
TUBELESS READY: Sealant-compatible rubber is used with a Tubeless Ready bead to securley lock to the rim with, or without, an innertube.
Purchase the best tires that you can financially afford. While cheap tires may be appealing to your wallet, they are cheap for a reason and will likely wear out quickly and are subject to becoming flat more often.  
Things That Wear Bike Tires Out Fast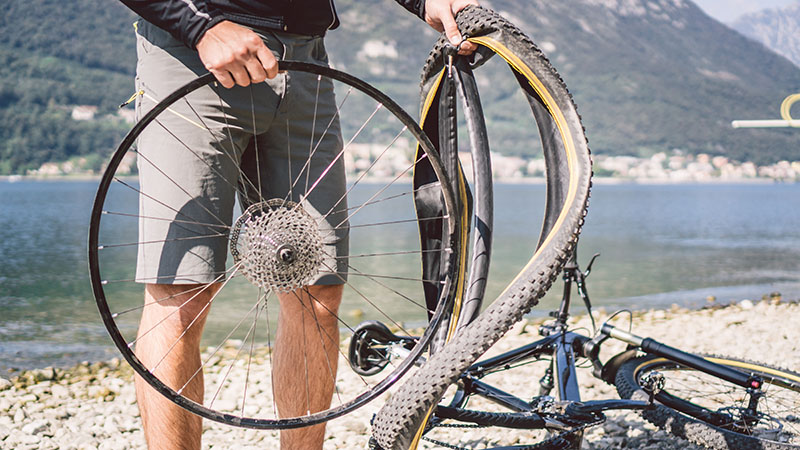 There are a number of factors that impact how long bike tires last, depending on how often you ride and the type of bike you use. 
Wheel Alignment: Making sure that the angles of the tires are perpendicular to the ground and parallel to each other is important as improper alignment can cause one side of the tire to wear out faster than the other. 


Suspension: Mostly for mountain bike riders. Worn-out shocks and struts are one of the reasons why your tires may ride unevenly and wear out quickly. 
BUCKLOS LUTU 26/27.5/29 Air MTB Suspension Fork, Rebound Adjust Straight Tube 28.6mm QR 9mm Travel...
【Material】Upper tube Aluminum alloy,Lower tube Magnesium alloy,High polished inner tube,Fluorescent Reflective logo,Available colors Black/Black Gold.
【Fork Types】Rebound Adjust MTB Suspension Air Fork Optional size: Black( 26/ 27.5/29)Black gold (26/27.5) ,28.6mm straight tube ,Weight 1675g (±50g),approx
【Rebound Adjustment】According to the characteristics of mountain bikes, the Compression damping can adjust to the comfortable air pressure value according to the rider's weight and riding...
【Product 】We Aim to Produce Cost-Effective Products for Customers.Choose Us You'll Get A Surprise!any questions, feel free contact with us.
【Package】1PC Bucklos Air Bicycle Suspension Front Fork (Boxed).
Improper Usage: Riding your bike on surfaces that the tires (and bike) are designed for will help them last longer. Slick tires are not made for trails and knobby mountain bike treads are not ideal for the road. 
Storage: Whether you use your bike frequently or not, rubber ages and breaks down over time. Exposing your bike to extreme cold or extreme heat can impact the structure of the tire, causing it to weaken and crack. Avoid keeping your bike outdoors overnight if possible.
Steadyrack Bike Racks - Classic Rack - Wall Mounted Bike Rack Storage Solution for your Home,...
BUILT TO LAST – Made from steel and UV treated plastic, our racks are strong and built to last, holding up to 35kg.
NO LIFT – Simply balance the bike on its rear wheel and push it into the rack – there's no heavy lifting required.
SAVES SPACE – Unlike bike stands, hooks or pulley systems, our racks have a unique 160-degree pivot feature.
FENDER / MUDGUARD? – If your bike has a fender/mudguard, this bike rack is not suitable for your bike. Check out the Steadyrack Fender Rack instead!
SPECS: 2.1″ Maximum Tire Width, 20″ – 29″ Recommended Wheel Diameter (including tire).
Skidding: Although it might be fun to channel your inner child and lay some rubber with a massive skid track as you screech to a halt, skidding will wear out your rear tire quickly. Imagine rubbing sandpaper on your tire. 
As with some brands of car tires, certain bike tires have wear bars that tell you when it's time to swap out the old rubber for a new set. 
Replace One or Both Bike Tires?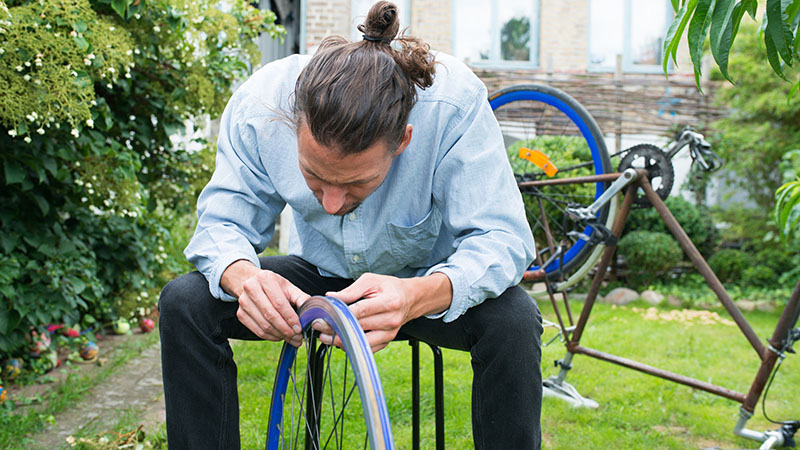 Although one of your tires looks to be perfectly fine, it is heavily recommended that you replace both tires at the same time. While some people may argue that there is no need to pay extra to replace a completely good tire, doing so will not only provide you with the comfort of knowing that both have the same amount of life left, but it also prevents you from having a mismatched and uneven set, which can make for an uncomfortable ride. 
Sale
Continental Gatorskin DuraSkin Bicycle Tire (700x23, Wire Beaded, Black)
CARBON BLACK MIXTURE- The Gatorskin, manufactured with a durable carbon black mixture, is as comfortable on the way to work as it is training for road races.
POLYXBREAKER- The polyester fibers overlap during manufacturing, yielding a very dense fabric and minimal space in-between threads, making the PolyX highly resistant to any foreign body without...
DURASKIN- Sidewall protection coming from the high quality polyamide fabric encasing the core casing of the tire from scuffs and cuts under the worst conditions.
WEAR OPTIMIZED TREAD- Get the most out of your tire with the Gatorskin's wear optimized tread compound, adding a long service life.
HANDMADE IN GERMANY-Continental has been hand making their tires since 1871, maintaining the integrity of tradition, while evolving with the most advanced technology.
When you replace your tires, it is also a good idea to consider changing your inner tubes as well, even if they don't need it. While this may be an added cost, it will give you the peace of mind that both your tires and tubes are at the optimal level for your ride.