Best Yoga Websites & Yoga Blogs
Whether you want to start your yoga journey, you are already an avid yogi, or you're even contemplating making it your career, there are so many places online to get information. It seems like new websites and blogs are popping up every minute! It can feel almost impossible to know where to start if you're wanting to find some good information that meets your needs and interests.
That's where I come in! I've scavenged the Internet and found the 25 best yoga websites. Whether you want to find a yoga website in a certain niche or you're looking for one that has it all, you will definitely be able to find what you need from this list! Just as each yogi is different in their practice, each website is different in their resources. Because of this, I wanted to point out that these best yoga websites aren't in any order.
I don't think it'd be right to start this list with any other website than the Yoga Journal. In the world of yoga, Yoga Journal is a shining star and is one of the most well-known resources for all things yoga, meditation, and lifestyle. On the website, you will find workout and yoga videos, information articles about wellness and yoga, and so much more.
One unique feature of the Yoga Journal is its section about poses. On the website, you can look through the pose inventory to learn new poses to practice and master. They classify these poses by difficulty and provide information like the target area of focus, benefits, and even step-by-step instructions.
Another thing that makes the Yoga Journal stand out is its membership option. While there are many features that are free on this yoga website, a membership will get you even more access to resources and materials to further your journey as a yogi. 
As it states in the name, this yoga website provides its readers with all the basics. They've got lifestyle articles, but they also have the gamut of yoga from beginners to Hatha to using it as therapy. 
Something that I found especially cool about this website is its review sections, where they provide readers with their top yoga videos, music, and books. It just seems like a very creative way to offer their audience even more resources.
And of course, what's more exciting than a giveaway? Yoga Basics hosts a giveaway each month if you sign up for their free monthly newsletters! 
Yogi Times has a wider range of articles from your traditional yoga blog. It even covers travel, fashion, "green living", alternative medicine, and so much more. Not to mention, this website also has Yogi Times University where you can not only go through yoga teacher training, you can also take courses on parenting, cooking, entrepreneurship and more! 
The biggest thing I love about Yogi Times is its holistic approach to yoga. For many, doing yoga also encompasses a lifestyle of health and wellness, and I truly believe you can find all kinds of resources to support that here.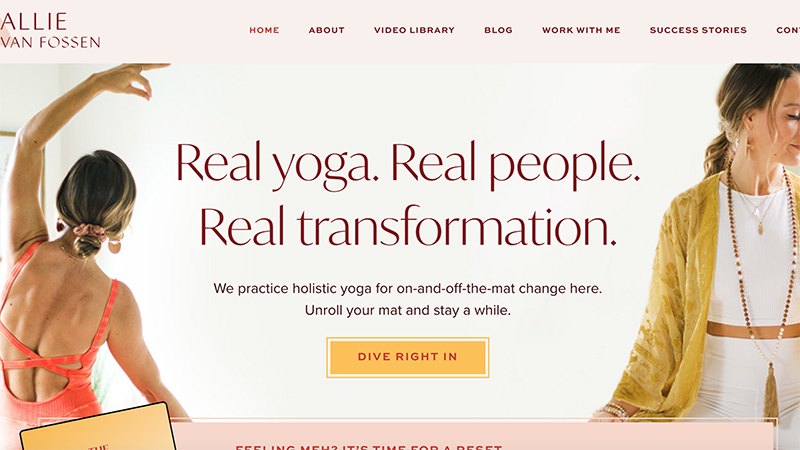 Allie Van Fossen is a holistic yoga instructor whose goal is to empower women through yoga and her website. She has free and for purchase courses along with a blog, free yoga videos, and free programs to explore. Besides the free features, her website also has a studio membership where you can get even more access. 
If you're looking specifically for all things yoga without the other content surrounding health, beauty, and wellness, this could be a great resource for you! While some people may prefer a yoga website that provides a wide scope of articles and information, there are also others that simply want to look at a yogi's website for only yoga-related things. If this sounds like you, then this could be a really great fit! 
Yoga with Adriene has a huge following on YouTube! Hundreds of thousands of people click on her videos to practice yoga, but she also has a website that many may not be as familiar with that has a blog, yoga courses, and yoga classes.
There were two things that stood out about Yoga with Adriene's website. First, I love her accessibility. Most of her resources are free or incredibly affordable. In many of her "courses", there is no set fee. They operate by "paying what feels good" and act as a donation, which is incredibly inclusive to those who may not have access or the ability to pay a lot of money.
Another thing that stood out was that she has free yoga resources for schools! So, if you are a teacher or know someone who is, she has some great resources to provide children with exposure to meditation and yoga.
Yoga International is another group dedicated to making yoga accessible to all. It is a big organization, so it only makes sense that their website is big as well. It has a section for articles, various programs and courses, and even live and pre-recorded classes for meditation and yoga. Most of the website requires a membership to gain access to the content, but they offer a free 30 day trial!
What sticks out about Yoga International is the sheer volume and quality of the content. Just by looking at the number of teachers they have on their website creating content, you can see that they have a lot of stuff. They even have teachers that specialize in different yoga such as Hatha, yoga therapy, and vinyasa. It seems like there are plenty of options for any yogi at any stage of their practice.
 Yogi Press
Yogi Press goes into the deeper parts of yoga. On their site, you can find posts about spirituality, history, yoga theory, and even science. You can find articles on food and effectiveness of intentional breathing and everything in between! 
While some of the yoga resources on our list of the 25 best yoga websites are more focused on providing yoga classes and courses to further your practice, Yogi Press is more focused on providing you with high-quality information to inform and guide your practice.
Jason Crandell's website includes a blog, teacher training and continuing learning courses, and their podcast. In his blog, you'll find information on yoga techniques, advice on your practice, articles on yoga anatomy and even articles on yoga teaching. It seems to have more of a technical feel, which is great for more experienced yogis or yogis wanting to pursue yoga as a career.
Speaking of pursuing yoga as a career, Jason offers 500 hour teacher training sessions that are virtual, hybrid, or in-person if you are in the London area. He also has a yoga injuries workshop that would be great for future or current teachers to explore. Jason Crandell's website is filled with great information for all along with resources for yoga teachers.
The Hugger Mugger has existed since 1986. On the website, you'll be able to not only learn about yoga through the blog, but also shop for all of your yoga needs. 
This is another significant source on our list of the best yoga websites that is inundated with articles of all different varieties. You can find articles to help your practice, help you improve your teaching practice, improve your fitness and mindfulness, travel more, eat healthier, and so much more. 
But what truly stands out is that this website is your complete one-stop-shop for all of your yoga needs. From yoga mats and clothes to cushions and bolsters, you can literally find anything that you could need!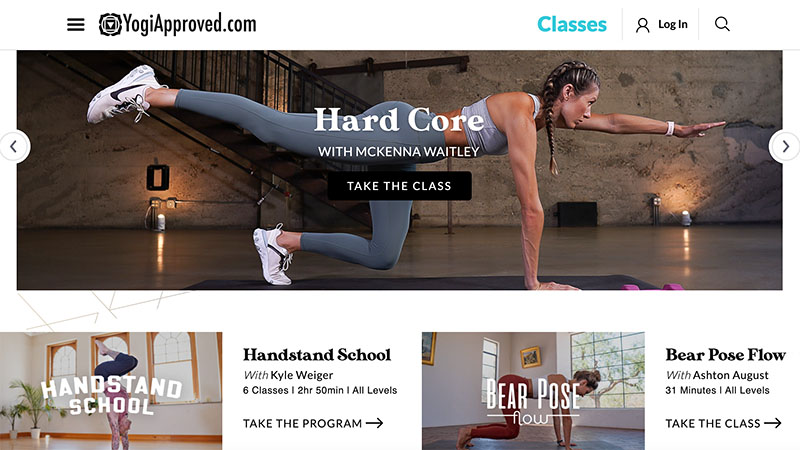 Similar to the Yoga Journal, Yogi Approved is a website that offers its visitors the opportunity to become members. While you can view their wide variety of articles without membership, joining will give you access to their many yoga, fitness, and meditation classes.
One thing that I really loved about this website is that it feels like its priority is to provide you with resources. The layout of the website is really user friendly and allows readers to choose to learn from topics including: wellness, mindfulness, travel, food, and even love and intimacy. If you love their content and want to give their fitness and yoga classes a try, they provide a 14 day free trial! 
While Well + Good made our list of the 25 best yoga websites, its primary focus doesn't seem to be yoga. Instead, Well and Good seems to focus on healthy living and taking a holistic approach to life, which is closely tied to yoga.
On the website, you will find articles about wellness, nutrition, skin care, relationship tips and more. They also have a shop, podcast, retreats, cookbooks, and studio sessions.
I love Well and Good because it encompasses the values that many yogis hold, but it isn't laser focused on yoga. If you're looking for something that is different and has great resources for improving your life, this should definitely be something you check out! 
The tagline for Yoga U Online is an "online education for everybody". It has both informational articles and online classes and courses. If you decide to become a member, they give you a 30-day free trial before they charge you.
I love how Yoga U Online organizes their blog posts. You can filter posts by clicking "beginner's yoga resources", "yoga and wellness news", and "yoga teacher resources". Besides this, they look at yoga from a health perspective so you can find articles on healing and improving a variety of illnesses and pains, including arthritis, stress, back pain, pelvic floor health, diabetes, and so much more. 
The last thing that really makes Yoga U Online stand out is its feature to "find a yoga teacher". You can search by your location and by various filters to find a yoga teacher that is right for you. I feel this feature, besides the countless classes available, truly helps bring yoga to everybody. 
At Yoga Calm, you will find yoga classes, certification opportunities, and trainings. You'll also find their blog and their shop, but there is just something really special about this yoga website.
The next website in our list of best yoga websites is Mind Body Green. It isn't a website completely dedicated to yoga. It has one of the biggest varieties on this list, but it also incorporates yoga and has some articles on this topic. 
Similar to Namastacey, Tara Stiles's blog feels more authentic. It's not about the hot tips and tricks of how to get your health on the right track or how to land a difficult yoga pose. But, it does cover healing, career, practice, and even some healthy recipes! 
This corner of the yoga blog world is a gentle combination of two very natural things: yoga and motherhood. In Spoiled Yogi, you'll find all kinds of tips and tricks about your practice, but it will also sprinkle in articles on motherhood, prenatal yoga, and more. If you have children, are expecting, or planning to start a family, this would definitely be a great blog for you!
This association believes so strongly in the power and benefits of yoga that they want to share it with the world– no matter anyone's accessibility, abilities, or background. Their mission alone makes this blog worth a look!
Like Yoga with Adriene, Yoga with Kassandra also has a pretty strong presence on Youtube. She also does all kinds of programs and training in addition to her blog, which has a mix of personal entries, pose tutorials, advice, and more.
With their tag line being "redefining yoga culture", you'll find Bad Yogi's blog refreshing and filled with new perspectives. Along with categories on yoga, fitness, and food, you'll also find articles about motherhood.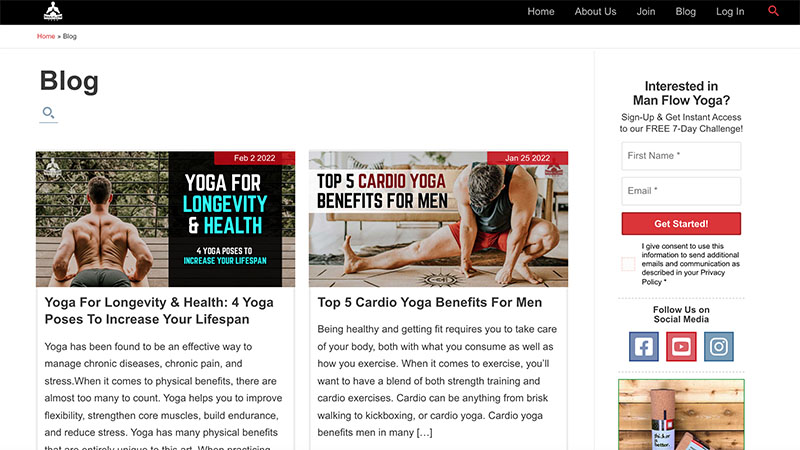 Like the name suggests, this is a blog and website geared towards men who state that they are a "no nonsense, fitness-focused" group. So, you can imagine most of the articles are going to be geared towards that clientele. If you a man who enjoys yoga, this is definitely the blog for you!
When I think of a nomad, I think of someone on the move and traveling. This blog offers just that. It has a section specifically for travel with guides to specific areas, tips for traveling and teaching yoga abroad and so much more!
Boy, is this blog aesthetically pleasing! It is beautiful and covers all of the essentials you would want in a yoga blog. They have a well-updated blog presence in addition to virtual classes, activewear, and books. 
The blog on Power Living has some pretty solid content! They have some yogi spotlights sprinkled into other articles revolving around the typical yoga topics (health, beauty, wellness, travel, etc).
Curvy Yoga focuses on the importance of practice and its effect on your yoga and your body acceptance. A lot of their posts revolve around self-love and body acceptance, which is incredibly refreshing for a yoga blog.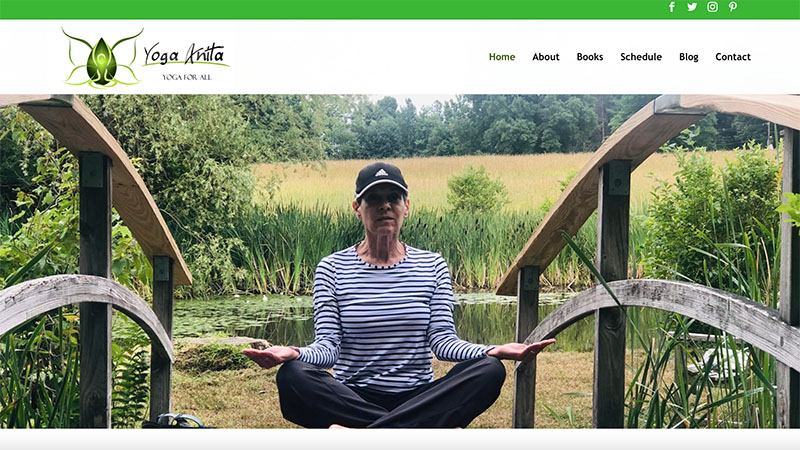 Anita Perry created Yoga Anita as a place for all who love and practice yoga. She has authored books about yoga and practices regularly in addition to her blog. Similar to the other blogs by one person, it's a smaller set up, but still has information about yoga, tips and tricks, and more.