With the uptick in paddle boarding in recent years, another fun and new hobby has been on the rise… SUP yoga. It's challenging, and it's a great way to get outside and get an exceptional workout in.
In this article, we're going to explore some amazing benefits of SUP yoga along with what you'll need to do it yourself! We're talking top picks for paddle boards, advice for SUP yoga, popular yoga moves to try and more.
What Is SUP Yoga?
SUP yoga is a combination of two things: stand up paddle boarding (SUP) and yoga. Yes, you read that right. Essentially, you are doing a yoga practice in the middle of a body of water on a stand up paddle board.
Many people enjoy attending SUP yoga classes with an instructor providing guidance and support, while others simply enjoy the quiet serenity of doing it on their own or with a friend. Either way, this challenging form of yoga has some wonderful benefits, which is why so many people are joining in on the adventure!
7 Benefits of SUP Yoga
There are many benefits of SUP yoga. Some of these are physical, some are mental, and some may be completely surprising to you! While this isn't a comprehensive list of all the amazing benefits, these are just a few of our favorites…
New Form of Cross Training
As someone who is passionate about fitness, I love finding new and fun ways to exercise. Cross training has so many benefits for your body and your fitness journey. Switching up your routine and changing up your workouts challenges your body in new ways, using new muscles while resting others that are used more frequently.
SUP yoga is a significant form of cross training because it is something completely unique. It requires a lot of balance and focus. It will challenge you in new ways while helping you to continue to improve your fitness and recovery!
Engages New Muscles
Because it is a completely new form of cross training, you will use and engage new muscles. Even if you've done yoga before, you've never done it on a paddle board. Downward facing dog isn't just about activating your legs and stretching your back like it is on land. It'll now include engaging your core and focusing on balance. Every pose in your yoga flow will more than likely engage even more muscles when you are out on the water.
So, if you're looking for something that will give you more of a challenge than traditional yoga without having to try more advanced moves, you should definitely give SUP yoga a try!
Practice in Grit
Taking part in SUP yoga will definitely challenge your mental strength by allowing you to practice having grit. Coined by Angela Duckworth, grit is essentially having perseverance when things are difficult.
There's really no sugar coating it, SUP yoga may be fun, but it can be difficult! Chances are, your first experience will be met with lots of wobbles and potentially some water time. Because it is something new that is difficult, it will allow you to practice patience and continue to work hard to master the poses and moves.
In our everyday lives, it's hard to find new things. We typically stick to the activities and jobs that we strive in, leaving little room for things that are new. SUP yoga may be just what you need to try something new and work on your grit!
Improves Focus
As mentioned above, SUP yoga can be difficult. For some yoga alone is challenging, but doing it in the open waters on a paddle board just brings a completely unfamiliar element. Because of this, it requires a great deal of focus and mindfulness. Every pose you attempt and every little movement that your body makes must be intentional. One small wiggle in the wrong direction and you may get to cool off in the water! Because of this, SUP yoga is a great way to work on your focus.
Reduces Stress
Most forms of workouts serve as a stress reducer. They help release endorphins and slow down the release of stress hormones. When you couple a traditional workout with yoga, which focuses on breathing, it's even better!
While you may be incredibly focused in the moment and you may even feel a little frustrated if you can't quite get your pose at first, you will soon come to realize the reduced stress from the activity.
Improves Balance
To put it simply…Stand up paddle boarding will improve your balance and yoga on land will improve your balance. So, when you combine the two activities into one…it will greatly improve your balance! Just think about it… You're balancing your body on water. Water is buoyant and moves even in the most calm of situations. You're trying to position yourself into various yoga stances, which also requires a certain amount of balance on any day. It almost goes without mentioning, but it's important to know that if you work at SUP yoga consistently, you're going to see incredible strides in your balance.
Improves Techniques
Last, one outstanding benefit to doing SUP yoga is that it is going to improve your yoga practice on land. If you can master any yoga move in the middle of the water on a stand up paddle board, it will be a breeze when you do it in your everyday practice.
If yoga is something that you enjoy and you want to continue to improve your techniques, you should definitely take it to the water. You'll be amazed at how easily things will come to you on land once you do!
Sup Yoga Tips
Now that you know all the amazing benefits of SUP yoga, I'm sure you're ready to jump right into it! But before you do, here are our top tips for having the best SUP yoga experience..
Find Calm Waters
As I've said previously, SUP yoga is challenging. Balancing on water is challenging (even before you add in a yoga flow), so it's important to find calm waters for your practice. While there are people who do SUP yoga in the Ocean, it would be better to find a calm lake or body of water where there isn't a lot of movement. The calmer the waters are, the better your focus can be on your moves and your practice.
Find Plenty of Space
Once you've found relatively calm waters for your SUP yoga practice, make sure you scope out a location that isn't crowded. The more space you have to move and practice freely, the better off you will be. Boats, kayakers, and other paddle boarders can not only serve as a distraction, but they can also make your SUP yoga experience less safe. The last thing you want to happen is to fall off and land on someone or something. So, before you get started, make sure that you have plenty of space for yourself.
Have an Open Mind
This goes along with one benefit I mentioned about developing and practicing grit. If you go into this experience expecting to be wonderful or that you're going to nail every yoga pose, you will probably struggle even more. Instead, embrace the struggle and approach this experience with an open mind! You just may surprise yourself at how much fun it can be to challenge yourself with something new!
Take Your Time
Once you've got your space ready and your mind is open, it's time to start! As you begin your SUP yoga practice, take your time. Move slowly. Enjoy the experience and don't rush. Rushing will only cause you to fall in or potentially get hurt. Listen to your body and take your time as you adjust to this new experience!
Start Simply
In addition to moving slowly, start simply. If you are in a SUP yoga class, your instructor will use his/her experience in the field to guide you, but if you are going out to try it on your own, don't bite off more than you can chew. Start with the most basic and simple poses. Start with the poses that are easier to balance with like cat and cow or downward facing dog.
Best SUP Yoga Paddle boards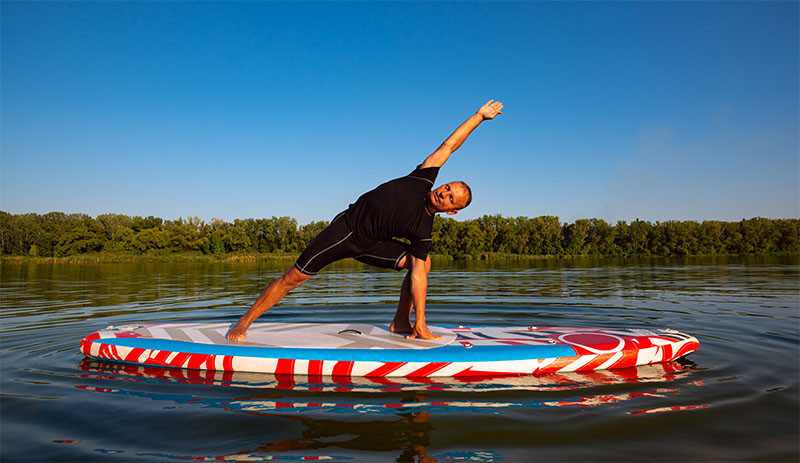 If you're wanting to purchase a paddleboard for SUP yoga, there are a couple of things to consider. The most important thing you should look for is stability. Typically, the wider the SUP, the more stable it is. So, that should be the first thing to consider.
Another thing to consider when looking for the perfect board for yoga is the thickness. Like with the width, the thickness of the board will help with stability.
Because stability is important with yoga and with paddle boarding beginners, be sure to check out our list of the 7 Best Paddle Boards for Beginners. There, you will find in-depth descriptions and more aspects of the boards and what to look for. But, to keep things short today, here are three great choices of boards for SUP yoga…
Some may be skeptical of using an inflatable SUP for yoga, but it's actually preferred by many. It's practical. You can store it and transport it easily. It's lightweight. And this specific board is wide and comes with everything you would need!
This is another wonderful inflatable SUP option. It's 6 inches thick, so you can trust the stability of this one! Similar to the one above, it also comes with a leash, pump to inflate, and so much more.
If you're wanting a rigid SUP for yoga, then this ISLE Cruiser is a superb choice. It has great reviews, is 32 inches wide and 4.5 inches thick!
SUP Yoga Gear
You may wonder what you'll need to have a pleasant and safe SUP yoga experience? Here's what we've got so far…
Of course, you will need a stand up paddle board. If you aren't ready to invest in one for yourself by using the list above, you can always find a place to rent one. More than likely, if you go to the beach or a large body of water, you will find a stand up paddle board rental.
Having paddles may be another thing that you need that seems obvious, but we couldn't leave it out! Even though you may not be paddling during your SUP yoga session, you're going to need them to get out into the water and then back on land.
If you're going to do SUP yoga, it's also advised that you have a leash. This is not the kind that a dog uses. It's the kind that goes around your ankle and attaches you to your board. If you fall off, you want to make sure that you stay close to your board. The last thing you'd want is for it to slip out from under you and head farther than you feel you can safely swim.
Even if you're a wonderful swimmer, it is always best practice to bring and/or wear a personal flotation device with you. Again, you'd much rather be safe than sorry with this one!
If something unfortunate happens, many suggest that you also pack an emergency whistle. Now, if you are taking a SUP yoga class with an instructor and with others around you, this may not be as necessary. But, if you are going alone or with just one or two others, it's important to have one.
Whether you get stranded with your board too far away, you fall off and get injured, or a sea creature comes too close, you'll be thankful that you brought your emergency whistle to grab attention and get the help that you need.
Having an anchor is a personal preference. Some yogis prefer to anchor their stand up paddle board in order to have a more stable foundation for their flow. It can eliminate distractions and keep your board in one spot. However, most people do not use an anchor, so it's totally up to you!
What To Wear?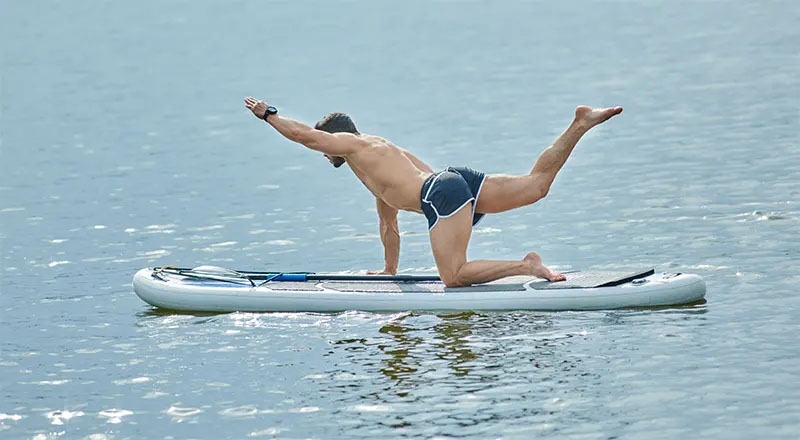 Another question you may wonder about SUP yoga is what to wear? Foremost, you should be comfortable. You should be able to bend and move around easily. Second, dress appropriately for the weather. There's always a chance that you may fall into the water, so prepare accordingly for that as well.
Here are the three principal things that people wear while doing SUP yoga while keeping the previously mentioned requirements in mind..
If the weather is hot and the water is warm, bathing suits are most peoples' go to for SUP yoga. They're comfortable. They're warm, and they're water resistant. So, if you are in a really warm climate, you can completely get away with simply wearing a comfortable swimsuit for your SUP yoga session.
Of course, male and female swimsuits are designed completely differently. While male swimsuits are typically some form of shorts, there aren't many choices for style or comfort level.
Women should try to opt for a more comfortable swimsuit. There are countless styles for women: one piece, bikini, tankini, skirted, shorts, and more. If you are a female deciding on your bathing suit for SUP yoga, I'd suggest something that you can easily move around in that won't shift or slip too easily.
If the water is colder, you want more protection from the sun, or you want something a little more covering to wear during your yoga practice, you can always throw on a rash guard over your swimsuit.
If the water is freezing and the weather is less than ideal, you may even want to consider a wetsuit. Though this may not be the most comfortable option, it's a necessary one given some temperatures and climates. However, I will say that most people do yoga on their stand up paddle boards in warmer areas.
Lastly, if you don't have a swimsuit you feel comfortable in or you would like to wear something over it, many people will do SUP yoga in their yoga clothes. Whether it's leggings and a top or shorts with a sports bra, the key to a good yoga session in the water is being as comfortable as possible to allow your body to move and stretch appropriately.
SUP Yoga Poses
At this point, you are ready to go! You know the benefits. You know the best tips, the best boards, and the ideal clothes. Now, you just need some inspiration for what to do! Below, I've included some of the most basic (and relaxing) SUP yoga poses that you could try!
Seated Pose
Like I said above, start simply. Yoga is all about connecting with your breath, so the best place to start is simply by straddling the board. Allow your feet to dangle in the water and hold your hands together at your heart center and simply breathe. Take deep breaths and enjoy this beginning pose.
Seated Twists
From your seated pose, you can lift your left arm while taking a deep breath and circling it back towards the back end of your board. Look backwards and focus on breathing deeply as you feel the stretch in your lower back. After a few breaths, return forward facing and then repeat on the other side.
Child's Pose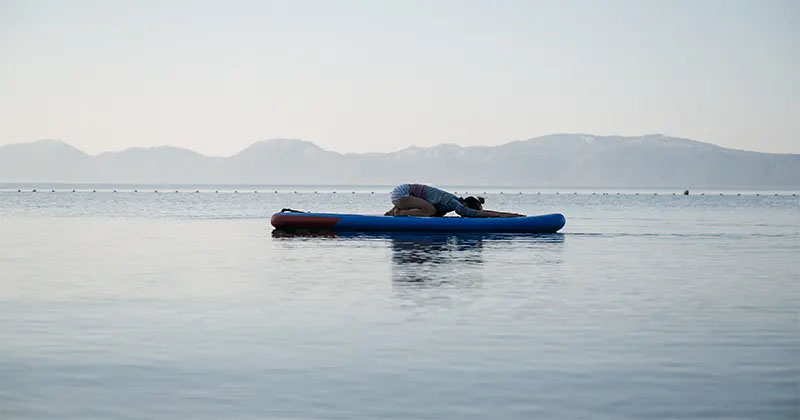 This is one of the most popular yoga poses. With your knees on the board, slightly separated, allow your body to fall forward, trying to touch your nose to the board. Your arms should be straight out in front of you while taking deep breaths.
Cat and Cow
On all fours, you will start out with a neutral spine and look down at the board. As you inhale, lift your head up while arching your back downwards. On your exhale, you will shift your gaze and head down slowly as you lift and curl your back. Your chin should almost touch your chest. Continue alternating between cat and cow for several breaths as you warm up your body!
Downward Facing Dog
This is another key yoga move! But, this one will bring a little more challenge than the others. With a downward facing dog, you will almost make a triangle with your body. Your arms should be shoulder width apart, grounded on the board, while your legs should be about hip width apart as well. You want to try to get your heels to touch the board along with the rest of your foot as you raise your hips straight into the air.
Upward Facing Dog
As the name suggests, an upward facing dog is essentially the opposite of a downward facing dog. Only your hands and feet will touch as well, but this time you will use your hands to push your body up, allowing your face to be looking upwards with your back arched and shoulders back.
Plank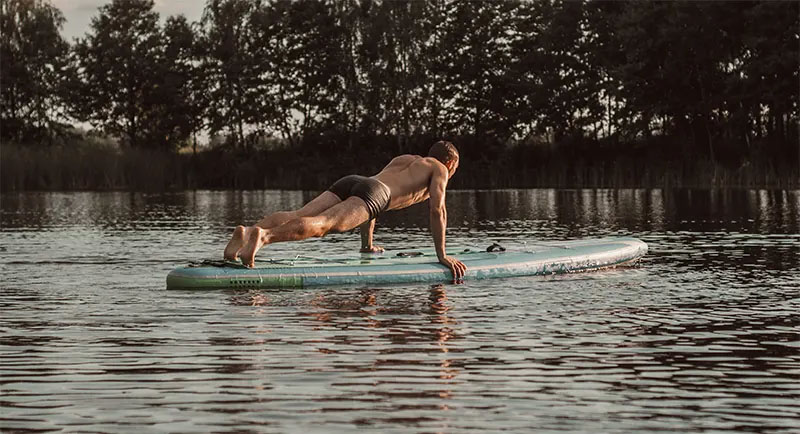 The final pose that would be great for beginners is a plank. It's pretty much where you stay in a pushup position for various amounts of time while focusing on your breath.