Best Way To Listen To Music While Running
Getting outside, enjoying nature and all of its sounds is peace of mind for some. For others, they enjoy taking tunes with them wherever they go. For runners, this is no different. Some want to immerse themselves into the task at hand, being in tune with themselves and their surroundings, while others use their favorite tracks as motivation. Both options have their benefits and yet there are those purists who will argue against the act, almost calling it sacrilege. If you belong to the group that prefers to pop the headphones on and enjoy your run, we take a quick look at the pros and cons and the best way to listen to music while running.  
Why Listen To Music While Running?
There are various reasons one might choose to listen to music while they exercise. Running or jogging is one of the oldest forms of exercise that takes minimal equipment and is something that everyone can do, regardless of the pace. Since the invention of the Walkman, people have been able to take music with them on their journey, using it to help improve their performance both mentally and physically while adding more enjoyment to their run.
1. The most popular reason for listening to music while running is motivation. As music elevates excitement and happiness, it also helps to eliminate tension and fatigue. For those who need a little kick to get out the door or finish those extra few miles, your favorite upbeat track will do just the trick.
2. Whether you are running for competition or just for exercise, keeping a consistent pace and tempo is important. With the help of the right playlist, music can be beneficial to help maintain the correct cadence in your stride. According to sports psychologist Costa Karageorghis, high-intensity runs benefit from music with 120bpm (beats per minute), while a more casual run will have less.
3. While many runners enjoy the solo adventure, sometimes long, individual training sessions become boring and lonely. For those who aren't ready or don't want to run with a partner, adding music to your run makes them a little less monotonous.
4. We have all had those moments when we are "in the zone", especially with a workout. For runners, it is no different. Exertion levels, pain tolerance, and the ability to push through fatigue can all be altered by adding music to your training session. Sometimes, with the added distraction of music, you may not feel as though you are working as hard when, in fact, you are. According to Dr. Alexandra Lamont, "we found that participants' exertion levels reduced and their sense of 'being in the zone' increased when compared to listening to no music at all."
5. Every runner has their "happy place", whether it is on the track, trail, or even the treadmill. Adding music to your run can help decrease the stress of your day as it influences the part of the brain that relates to our emotions, therefore helping us to relax. Whether you choose to run before what could be a stressful day ahead or at the end of a grind, chances are an upbeat run will leave you refreshed and happy.
Is Listening To Music While Running Safe?
While I don't pretend to be a serious runner by any means, I enjoy going out for the occasional run at the track, trail, or the beach. I have plugged myself in, using music as a motivator and companion, knowing that I am in a safe environment, aside from other runners.
While I prefer to be plugged in, making sure that the volume on my earbuds is low enough that I can hear others around me or be able to warn those in my way if needed is important. Let's be honest, nobody wants to be rammed into during a nice sunny morning run.
For those who bravely run on the roads or sidewalks, being alert to traffic hazards and your surroundings is of the utmost importance. If you are running in an organized race, race officials will often request (and sometimes require) you to run without music so that you can hear course marshals and security pointing out directions and potential hazards.
While it is not necessarily a safety hazard, be aware that training with music can throw you off your pace and sometimes force you to run faster or further than your body is capable of, potentially resulting in injuries.
5 Ways to Listen To Music While Running
Since 1979 and the release of the Walkman, there have been major advancements in mobile music players. As with the devices themselves, technology has also changed the various styles of headphones that we can choose to wear. Below are some of the best ways to listen to music while running. 
There are various ways to hold your device to listen to music while running. One option is to use an armband to secure it to your upper arm, or if that isn't up your alley, you can always use a running belt or pouch, which can also store your keys, etc. If an armband or belt isn't an option, you can always hold it in your hands, but then you risk it falling or gathering mass amounts of sweat.
Mobile Phone
No products found.
As with portable music devices, mobile phones have come a long way over the years and are no longer used as just a method of calling someone. Most phones now have a storage capacity of over 32GB which gives you plenty of room for your favorite workout playlists, but also extra space for those timely nature photo-ops and exercise selfies. All modern phones are now equipped with Bluetooth allowing you to pair wireless headphones, or you can plug in a standard wired headset. 
Should you decide you do not want to use headphones, the built-in speaker is often quality enough. However, you run the chance of disturbing others around you. Depending on your phone storage, there are plenty of music apps that you can use. However, be careful of data usage. Amazon Music, Spotify, and Apple Music are just three of the various apps available on the market. However, you will need to subscribe for a fee if you want advertisement-free music.
Running Watches 
No products found.
If you want to leave your phone at home and disconnect from life without having to carry anything on you, smartwatches are the way to go. Not only will you be able to listen to music, but most smartwatches track your activity levels, heart rate, speed, and distance. Equipped with Bluetooth technology, Apple, Garmin, Fitbit, Samsung, and LG are all popular brands with different price points depending on your budget and desires.
MP3 Players
No products found.
If you are old school, chances are you will already have an MP3 player lying around the house, but if not, they are relatively inexpensive on Amazon or your local entertainment/technology store. As with the smartwatch, an MP3 player will allow you to avoid any calls, texts, or email alerts that can take away the focus of your run. Unlike your phone, most MP3 players are small enough to fit into your pocket, which means you don't have to worry about an armband or running belt. 
The downside to using an MP3 player is that you will have to preload your music from your computer onto the device, rather than streaming it. While the MP3 player may not be the coolest and most modern device, the upside is that you don't have to worry about any expensive data usage, and should you drop it, the MP3 player is often more sturdy (and cheaper) than your expensive smartphone's screen.
Headphones
No products found.
When selecting your workout headphones, there are many options on the market to choose from. Whether you prefer earbuds or headphones, it is important that you select a pair that is lightweight and fit comfortably so that they do not slip off/out and impact your running performance. While some runners still use wired headphones, the convenience of Bluetooth technology allows you to run without having to worry about catching the wire or having it bounce around. When purchasing a set of headphones, look for waterproof / sweat-resistant ones, which are less likely to break or fall out when they become sweaty. 
Speaking of falling out, for those who prefer earbuds but have trouble keeping them secure, there are options for hook earbuds that have loops that go behind your ears to help them stay in place. One of the most recent and more expensive rages in the headphone market is the bone conduction headset. Rather than plugging your ears with earbuds or over-ear headphones, bone conduction headsets provide a comfortable and safer alternative that leaves your ears open to do what they were made for – hearing things around you.
Playlists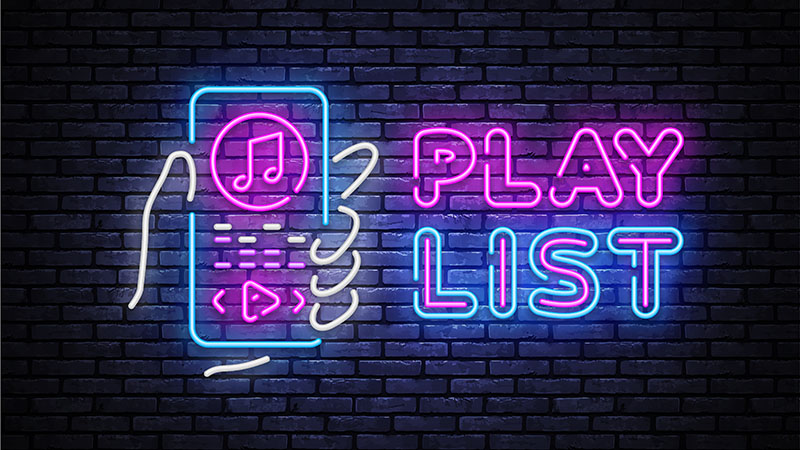 After you figure out the proper device and headset, the best way to listen to music while running is to have the proper playlist! Do not allow yourself to get distracted by fumbling around to change the track. Everyone has different styles of music that they enjoy listening to while working out, but for runners, it is important to make sure that your tunes maintain a steady beat, ideally at the 120-140bpm range. 
Whether you preload music or use a playlist off of an app, making sure that you have enough music for your entire journey is important. Spotify Premium, Amazon Music and Apple Music all allow you to download your music playlists to listen offline.
Depending on the intensity of your run, having a couple of warm-up tracks that range between 80-90bpm is helpful to set your pace. Just as a couple of warmup songs are key, so too are your cool-down tracks, which help to relax and slow your pace as you ease into your post-run stretch session.