Best Daypacks for Hiking and Travel
When you are traveling or spending a day out on the open trail, you need the right daypack to carry your essentials so that you have everything you need. This daypack does not need to be oversized, just large enough to carry the essentials and get you back to the end of the trail safely. Before you decide on a daypack to carry, there are several features that you need to keep in mind, including size, price, weight, and the activity for which you will use the daypack. 
What Size Daypack is Best For Day Hiking?
When you go out day hiking, you want the best daypacks for hiking and travel that can carry a significant amount of weight. Based on the supplies that you need to get through the day, you want a day pack that carries at least 18-20 liters in weight. Not only will you need to pack snacks for a day hike, but you need to have gear for a fire if you need it, basic medical supplies, protection, and plenty of water. If you want to use a daypack to hike for an overnight trip where you will need a small tent and other sleeping gear, you might want a daypack that carries much more weight, like 35-40 liters. 
Can You Use a Hiking Daypack For Travel?
Because of the design of daypacks where essential items have their own personal spot, you can use a hiking daypack for travel. These daypacks make great carry-on options and can store all your clothing for a trip away for a few days. With the different compartments available externally, you can store different essential items like personal hygiene, phones, and chargers in their own secure area. This leaves room for the larger items you need to carry, like laptops, documents, or anything else that is essential. By adding weight to your carry-on and not your checked luggage, you could save some cash. This is something to keep in mind when looking for the best daypacks for hiking and travel. 
Best Daypacks For Hiking and Travel
Of all the different daypacks out there on the market, there are 10 specific packs that meet the most important criteria for both hiking and traveling.
---
1. Osprey Talon 22
One of the most durable daypack options out there is the Osprey Talon 22 pack. They designed this pack specifically for hiking and being able to navigate some of the most strenuous trails. You can adjust the hip belt on the bag to fit your height so that your hips carry the weight. The gear can weigh 20-22 liters depending on which size pack you have. 
Pros:
Fits most waist sizes, 28 – 46 inches

Internal Frame

Six external storage areas
Cons:
Higher cost compared to other best daypacks for hiking and travel options

Not gender-neutral in terms of body type
---
2. REI Co-Op Ruckpack 18 Recycled
If you want a daypack that is a bit more eco-friendly than its counterparts, the REI Co-Op Ruckpack 18 is made of recycled materials to be sustainable while hiking. It brings the entire experience full-circle and meets carry-on dimensions for traveling, as well. It can fit smaller torsos, and has a gear capacity of 18 liters. 
Sustainable

Laptop friendly

More affordable option of the best daypacks for hiking and travel
Cons:
Less weight available in gear

Only one outer compartment

Only fits waists up to 42 inches
---
3. Gregory Citro 24 H20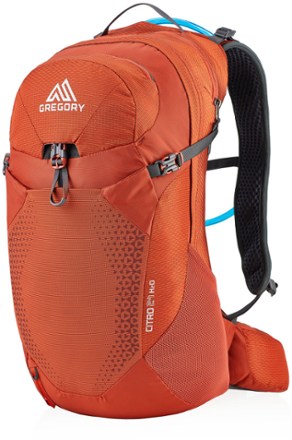 The Gregory Citro 24 H20 is the ideal outdoors daypack. They designed it with the right materials to keep your back dry and cool while you are hiking out in the woods or sun. It can hold some of the heaviest gear at 24 liters and has a frame made from alloy steel. 
Pros:
Over 5 external compartments,

Covers waists up to 48 inches

Holds 100 ounces of fluid
Cons:
Higher-end of budget compared to other best daypacks for hiking and travel
---
4. Deuter Speed Lite 20
More in the middle in cost, they equip the Deuter Speed Lite 20 with a padded back area for your comfort and a special S shoulder harness to use while out in the woods. There are accessory loops found throughout the bag to carry any additional weight on the outside of the daypack. It can comfortably carry 20 liters of gear. 
Pros:
Multiple compartments externally

Internal Frame

Elastic Mesh
Cons:
The hip belt is not as long or stretched as far as other best daypacks for hiking and travel
---
5. REI Co-op Trail 40
Another REI daypack, the REI Co-op Trail 40 model, is much stronger than its counterparts. It can hold easily 40 liters in gear and supplies. They also made it from recycled material, offering a spring-steel frame throughout the frame. The torso length stretches 20 inches, and the waist up to 46 inches, making it a universal daypack. 
Pros:
Carries some of the largest weight in gear in the best daypacks for hiking and travel

Recyclable materials and eco-friendly

6 or more external compartments
Cons:
Price is on the higher end of the best daypacks for hiking and travel options.

Dimensions make it a tight fit for a carry-on, so probably not ideal for traveling. 
---
6. Osprey Stratos 24 & Sirrus 24
Complete with the light wire frame, the Osprey Stratos & Sirrus 24 carries at least 24 liters of gear while out on the hike. It has an expansion on the hips, stretching to fit up to 50 inches. External pockets are also a part of the design, allowing you to carry the different gear items you need securely. This is a comfortable daypack because they made it from nylon, which is can breathe easily.
Pros:
Carries appropriate amount of weight at 24 liters

Expands hip flexibility to 50 inches
Cons:
It is probably the most expensive of the best daypacks for hiking and travel options. 
---
7. Patagonia Altvia Pack 28L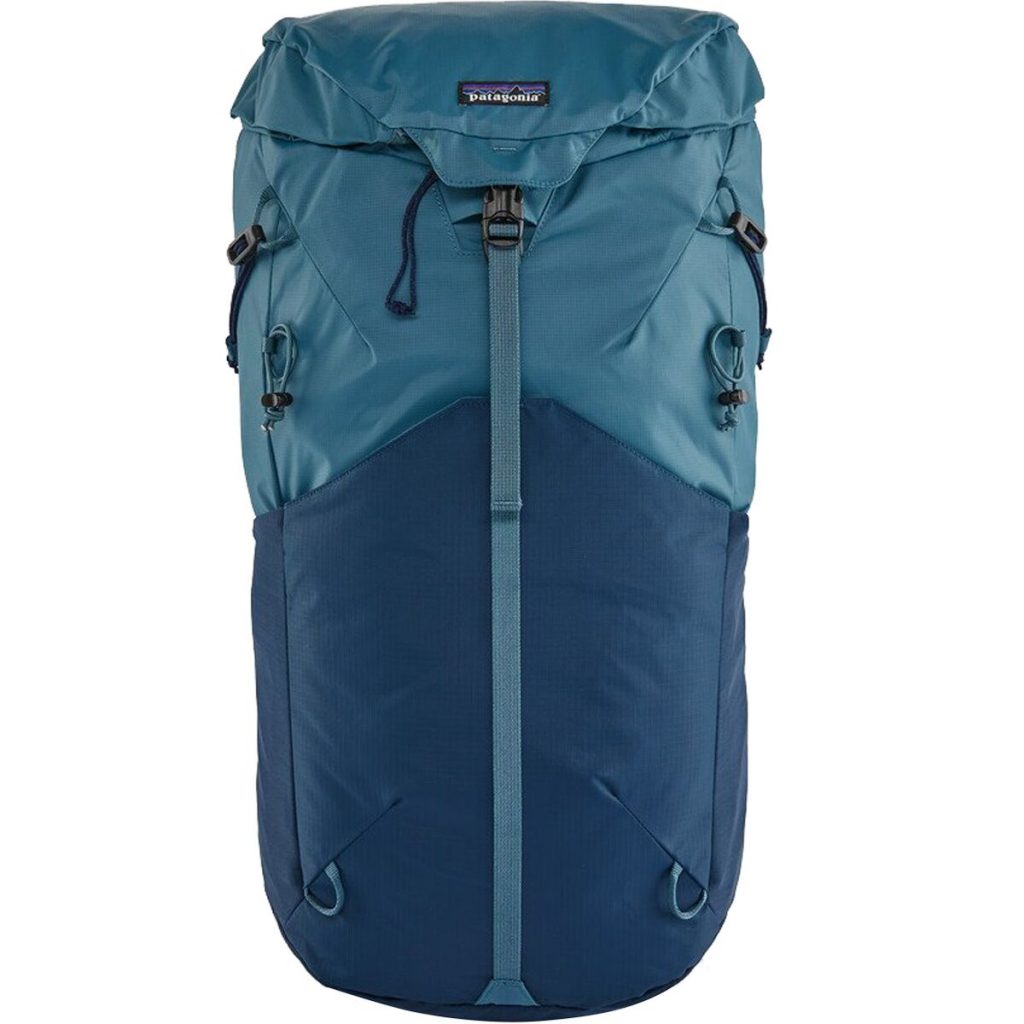 Coming in at 28 liters for gear capacity is the Patagonia Altvia Pack. The dimensions on this daypack are a little larger than the others at 23″x11.5″x10.5″ While it is too large to use for a carry-on option during travel, it will hold and store the supplies you need while out hiking with a group. Take the items you need to camp for the night when you carry Patagonia as your preferred choice. 
Pros:
28 Liters is a substantial amount of weight to carry on a hiking trip

Dimensions allow the weight to spread more evenly 

Stretches throughout short and all torsos
Cons:
It is one of the most expensive options of the best daypacks for hiking and travel

The dimensions prevent it from being used as a carry-on in travel
---
8. Osprey Daylite
If you are planning a quick hiking trip or short-term travel where you will not be gone overnight, the Osprey Daylite may be the right option for you. It can hold a tablet if needed or a hydration reservoir, so that you have all the fluids you need. The total weight carried in this daypack should not exceed 13 liters. There are several color options available in this bag, which is not always an option for the other contenders. 
Pros:
Dimensions allow it to be flexible as one of the best daypacks for hiking and travel

They also designed compartments in the bag for both types of uses. 

Color choice available 

Affordable option
Cons:
Carries less gear, meaning they only designed it for day trips. 

Holds on 13L of weight, so you have to return the same day for a hike or plan to check a bag when traveling. 
---
9. Sea to Summit Ultra-Sil
Unlike other daypacks taking the traditional shape of a backpack, the Sea to Summit Ultra-Sil wears more like a vertical duffel bag. It is a waterproof option, that depending on the size, has a variety of weight options for gear. At its smallest, it can only carry 2L of weight. At its largest, it can only carry 35 liters at the maximum. You can also choose from several color options if you decide to go with this daypack. 
Pros:
Packs vary in size and the weight that can be carried. 35 liters is significant if using the largest pack out there. 

Multiple color options

Waterproof and weatherproof

Affordable option in the best daypacks for hiking and travel
Cons:
Not good for boating 

If you opt for the largest to carry the most gear, you cannot use it as a carry-on when traveling. 
---
10. Hyperlite Mountain Gear Daybreak
Coming in as the lightest daypack on the list, the Hyperlite Mountain Gear Daybreak feels almost non-existent when it is empty. It only holds up to 17 liters in weight, but that is enough for a day's worth of essentials while out hiking. There are several pockets found around this daypack, including a water bottle location. 
Pros:
The lightest daypack on the list of best daypacks for hiking and travel

Various external pockets for organization 
Cons:
High price point on this daypack compared to the others. 

Only carries 17L compared to others carrying over 20 or 30. 
---
What Do You Consider Most Important in a Daypack?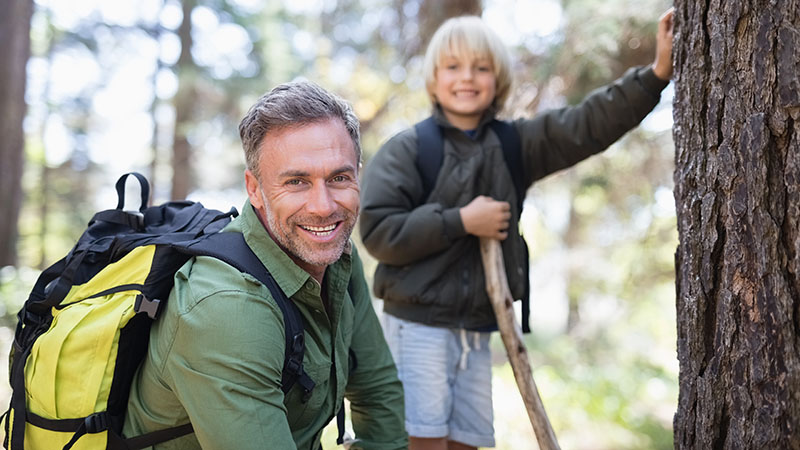 When you go through the leading daypack options above, it is important to keep a few distinct features in mind so that you get the right daypack that fits your needs and goals. 
Price
Being able to afford the daypack that you need is essential. If you are planning to use the daypack frequently, such as multiple times a month or more, you will want to make an investment and maybe spring for the more expansive options. Spending over $100 on a quality daypack is an excellent investment. You will get your money's worth out of it. This is an investment in quality and makes your life easier when you are out hiking and traveling. 
Weight
Being able to carry the things you need while out hiking could make a difference in your survival. What you want to do is weigh your gear before you purchase your daypack so you know how much room you need in liters, and you purchase the right option. If you are a day hiker or overnight hiker, you need to consider the best day packs for hiking and travel that carry the most weight. This is important so that you can carry all of your necessary gear to keep you safe and comfortable on the trail. 
Weight is also essential for traveling. If you want to reduce how many checked bags you carry when traveling, you can spring for one of the larger daypacks that carry more weight, allowing you to carry more as long as they meet carry-on requirements. If you do not have an issue with checking bags, then a lighter weight bag might be the better option for you so that you can pack just what you need as a carry-on, taking the essentials with you wherever you go. 
Activity
What are you planning to do with this daypack? Make sure that the daypack you choose can go with you through the changing terrain if you are an avid hiker or if you are planning to use your bag for lots of travel. If you enjoy hiking trails where you are spending the time walking or even biking, you need a daypack that can keep up. Some of the best daypacks for hiking and travel are not waterproof, however, so if you are planning to go boating or kayaking, keep this in mind when you pack your gear and make your purchase. 
If you are looking for a bag that will be used more for travel than hiking, things like waterproof are not as important as weight and the actual size of the bag. You want it to fit within the carry-on requirements of airlines, so size matters in this case. 
Important Daypack Considerations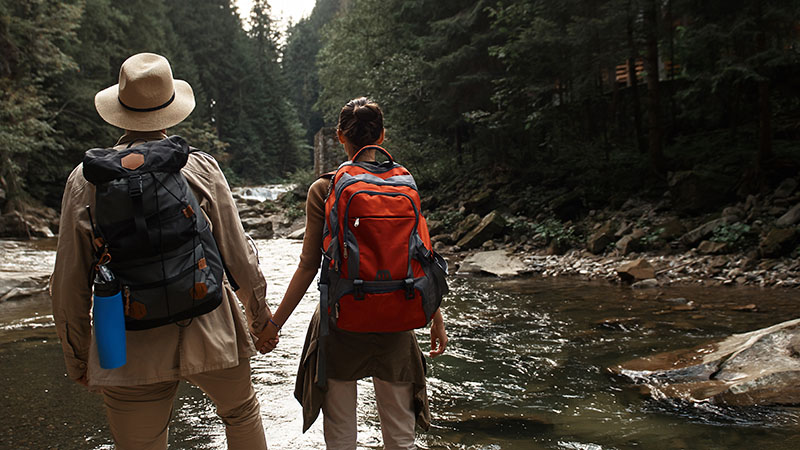 The biggest consideration to keep in mind is that this is an investment. You want to purchase something that will reflect how much you will use and what you will use it for. If you need something that will double as a carry-on, double-check the dimensions to be sure they will pass check-in and fit in the overhead compartment. They don't make all the best daypacks for hiking and travel the same, which is why you need to review all the features of these bags and determine which is right for you, based on price, weight and activity.