Related: 12 Best Treadmills Under 1000 Dollars, 6 Best Treadmills Under 2000 Dollars, 7 Best Curved Treadmills for Sale
When the weather is beautiful and the sun is shining, running outdoors is an amazing way to exercise!
At some point, however, you are going to need an alternative way to exercise.
Many look to treadmills when outside weather conditions are less than ideal, and using a treadmill pace chart can help with this transition!
Treadmill Pace Chart – MPH to Pace
Treadmill Pace Chart With Inclines
How To Use The Treadmill Pace Charts
As with most charts, a treadmill conversion chart is pretty self explanatory.
In order to use the charts, you'll need to know your average pace per mile.
Once you look at your pace per mile, you can see the comparable MPH treadmill setting.
Another important variable to consider when using a treadmill pace chart is the incline. It will affect your overall speed.
For example, if you want to run at 6 mph on the treadmill, that is typically considered a 10 minute mile pace.
However, when you add incline, the pace increases. So, if you set your treadmill to a 2% incline at 6 mph, then you're really running a 9:24 pace.
Why Do I Need a Treadmill Pace Chart? 
First, you don't need a treadmill pace chart or a treadmill conversion chart to workout on a treadmill!
Whether you've invested your hard earned cash in a state-of-the art curved treadmill or you've found an awesome one right on budget, using treadmills as a part of a balanced workout regimen brings a number of benefits. 
However, using said chart can be incredibly helpful in your fitness journey.
Treadmill conversion charts or treadmill pace conversions are tables that show how you can convert your running pace from running outside to the treadmill speeds inside.
So, if you are running a race and have a goal or a PR that you want to hit, it's important for you to know what speed and at what incline on the treadmill you need to be at consistently. 
Because running indoors on a treadmill is slightly different, a treadmill pace chart will allow you to imitate your outdoor running speed and help you reach your running goals! 
What's a Good Treadmill Running Pace?
A "good" running treadmill pace is incredibly subjective.
It fully depends on where you are in your fitness and running journey.
For one person, running at 8 mph on a 2 percent incline is "good" while another person may push themselves at 6 mph with no incline! 
Generally, moving between 4-5.9 mph on a treadmill is running while anything over 6 mph is considered jogging.
So, those are great starting points and mile markers if you're just beginning your treadmill running journey!  
How Treadmill Incline Can Help Your Training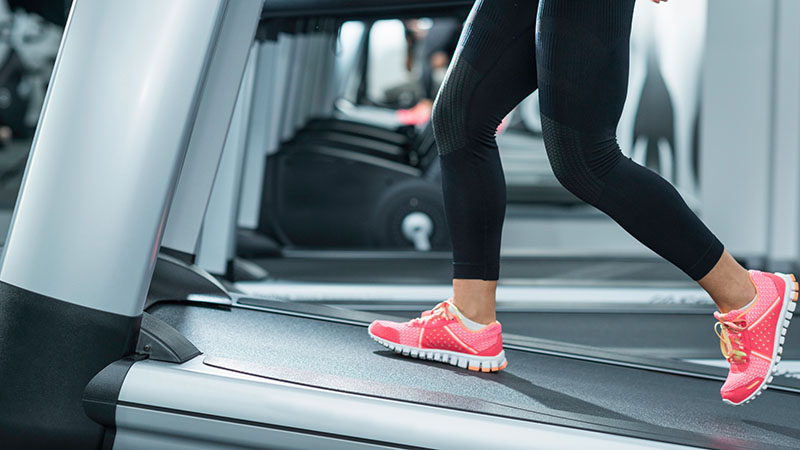 Did you know that according to research, running with a 1% incline mimics running outdoors?
If you think about it, that makes sense.
When was the last time you went for a run around the neighborhood and the ground was so perfectly flat that you stayed at the exact elevation the whole time?
Exactly never!
Unless you have a curved treadmill specifically designed to mimic traditional, outdoor running, simply running on a 1% incline can help your training be more accurate. 
Running with inclines can also help your training because you can use it to mimic hill runs, work on your speed in a more challenging way, and change things up.
There are even some treadmills that have built in workouts that will randomly change the incline to simulate running outside and keep you on your toes!