How Many Swimming Laps is a Mile?
Whether you want to swim because you want that ideal swimmer's body, you want to get in a good workout with less stress on your joints, or you are an aspiring mermaid, it is the perfect form of exercise with countless benefits. From improved physique and stronger, leaner muscles to heart health and a healthier lifestyle, there's something in it for everyone.
Unlike with running, it's not always easy to gauge your distance when working out. Not to mention, it's way more difficult to swim a mile than run one. In fact, swimming a mile is actually an aspirational goal that requires a lot of endurance and hard work.
If your goal is to swim a mile, though, how do you know when you have achieved it? Well, the answer is….it's complicated!
Most swimmers will gauge their mile by the total number of laps they have swum. But, again, it's not like a track where the runner knows how many it is to get a mile. There are many factors that can contribute to the different number of laps needed to reach a mile.
Lap vs Length
Before we dive into the number of laps needed to swim a mile, we first need to make sure we understand exactly what a lap is! Many people have a tendency to become confused when talking about laps and lengths in swimming. There is a very important distinction.
A length is when you simply swim to the end of the pool. One lap is swimming to the end of the pool and back. So, if you want to think about it this way, two lengths equals one lap!
How are you Measuring your Laps?
Another thing to think about before even knowing your distance is how you are going to be measuring your distance. In the swimming world, there is more confusion over this topic.
If you are swimming laps by yards, the international swimming community considers 1650 yards a mile even though it's not a "true" mile. A "true" mile in yards is 1760 yards. Likewise, if you measure your distance in meters, the swimming community considers 1500 meters a mile, but a "true" mile is 1609.3 meters.
So, before you take the next step of determining how many swimming laps is a mile, you must decide what measurement you will use. Will you be using yards or meters? Will you be using the length recommended and recognized by the swimming community, or will you be using a "true" mile's length?
History of the "Mile"
If you're anything like me, you may wonder why in the world are there different variations on what a mile is? Well, again, the answer is…it's complicated!
To make a long story short, Braden Keith of Swim Swam did some digging into historical Olympic swimming records and found that there was a point when American swimmers and swimming organizations switched their distances to the metric system to better align with international competitions, such as the Olympics.
When this transition happened, people continued calling it a "mile" swim even though the new adaptation of the 1500 meter race wasn't technically a mile. Just as the four laps around a regulation track is just shy of a "true" mile, American's did the same with swimming.
So, most professional and international swimmers recognize 1650 yards or 1500 meters as a mile in their swimming regime.
What is Your Pool Length?
Now that we know the history and have a better understanding of laps and lengths, let's get into how to measure a mile. One of the first things you need to know is how long each lap is, and we determine that by the length.
Long Course Pool
If you are swimming, or have access to a long course pool (LCP), each length is 50 meters, making each lap 100 meters. This is an Olympic-sized regulation pool, and it will require you to swim longer lengths, but you will have fewer laps to accomplish your goal. You will need to make only 15 laps to reach a mile in these long pools!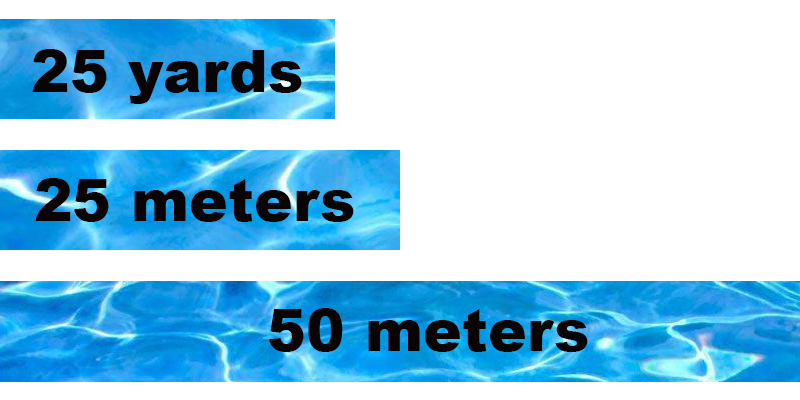 Short Course Pool
As the name suggests, short course pools are, well, shorter than LCPs. They are 25 meters, or 27 yards. So, they are half the length of long course pools, meaning that you will do your laps more quickly and provide yourself with more break times if needed. Since it is half the size, you will need to double the amount of laps. So, it will take 33 laps to complete a mile in a short course pool.
Other Pools
What if the pool available to you isn't a regulation pool? What if all you have to work with is a pool in your community or at your home? No worries! You might just need to do a little math!
If you do not know the length of the pool in which you are swimming, you could find someone to ask. If it's at a workout center, they should definitely know. But, if you are at a home pool, you can measure the distance from end to end with a measuring tape to determine the distance. While this might seem a little time-consuming, you will be so glad that you took the time to do this as you start swimming workouts more consistently.
So, How Many Laps Is A Mile?
If it's a regulation pool, then determining the number of laps to get to a mile is a piece of cake because it's common knowledge! If you're swimming somewhere else and you want to determine this, you can use the following formula:
(1 Mile in Yards or Meters)/(distance per lap) = How many swimming laps is a mile
It might have seemed overwhelming at first, but it's really that easy! Just take the length of a mile and divide it by the distance of one lap. For example, if you have a pool that is 10 yards for a length and 20 yards for a lap, you would take 1650 (yards in a mile) and divide it by 20 to get 83. Meaning, you'd need to do 83 laps in a 10 yard length pool to achieve your goal of swimming a mile.
Check out this cheat-sheet of examples for a better understanding…
Tools To Help Count Laps
Once you know how many swimming laps is a mile for the pool you are training in, you will need to think of a strategy to keep up with how many laps you've completed. Even with a long course pool, you still must do 16 laps to reach a mile! That's a lot of laps to keep up with! Below are some tools to help you count your laps, stay on track, and achieve your goals…
Wearable Lap Counter
If you do a quick search, you will find countless options of lap counters that you can wear while you are swimming. For example, the SC SPORTCOUNT Lap Counter is completely waterproof and goes on your finger like a ring.  You just push the button every time you complete a lap.
SC SPORTCOUNT LapCounter and Timer - Waterproof Lap Counter Timer for Swimming, Biking, Running...
If you are keeping track of your laps in your head, you need this lap counter to keep an accurate count so you can focus on your workout. Counts up to 9,999 laps.
KEY PERFORMANCE DATA - It also times your laps and provides real time speed data and workout summary statistics: total cumulative time, fastest, slowest, and average lap times.
NOT JUST FOR SWIMMING - This waterproof lap counter and timer is also a great for runners, cyclists, coaches, umpires, and many sport and non-sport activities.
ERGONOMIC DESIGN - One hand operation does not interfere with your workout technique which makes this digital counter biomechanically better than a sports watch or tally counter.
If you've got a bigger budget, you could go for something like the Delphin. Not only does it allow you to listen to music underwater, but it will also help you in keeping track of your laps while it rests on the back of your head, attached to your goggles.
Waterproof Delphin v1.0 Smart Player Bundle for Swimming - Compatible with Audible, Spotify, and...
Listen to your favorite streaming services underwater! Install apps like Spotify, Pandora, and Audible, then listen to music, podcasts, and audiobooks underwater. NOTE: Wifi does not work underwater....
The Delphin features a compact touch screen interface, Android 5.1 operating system, a built in metal clip, and 5 raised buttons for easy, tactile control.
Bundle includes Delphin with 8GB or 16GB of memory, your choice of waterproof headphones, 11 different earbud tips, a FREE 1 oz. bottle of AquaGuard and a FREE 30-minute narrated swim workout.
Choose from Swimbuds Sport, or Swimbuds HydroActive headphones in your bundle. There's a perfect choice for everyone!
Delphin, Swimbuds Sport, and Swimbuds HydroActive headphones all come with a 1-year warranty against manufacturer defects.
Use a Training Watch
If you want to keep up with your laps, but you want to use something that has other uses, you could definitely go with using a training watch. There are a lot of training watches out there, including the Apple watch, which counts your laps and your distance for you.  The apple watch will even tell you what strokes you swam during your workout – almost magically!!
This takes a lot of the guessing and hard work out of figuring out how many swimming laps is a mile, which will allow you to focus your energy on achieving your goals!
Conclusion
Figuring out how many swimming laps is a mile can be complicated – especially for new swimmers.  But thankfully, it is not as hard as it seems.
The first thing you need to know is your pool length.  Is it 25 yards, 25 meters, 50 meters or some other distance?  Knowing this, you can determine how many yards or meters is a mile (see the cheat-sheet listed above).  Also, by knowing the pool length, you can determine how far a lap is (fyi – a lap is swimming to the end of the pool and back).
Then, use the below formula to determine how many swimming laps is a mile.
(1 Mile in Yards or Meters)/(distance per lap) = How many swimming laps is a mile
If you aren't up for the math lesson, you can always opt to use a lap counter or a training watch.  I have used an apple watch to track my swim distance and strokes for two years now.  I absolutely love it!
Now you know how to determine how many laps is a mile – go get to swimming!!  And remember, you can do it – if you will do it and work to do it!